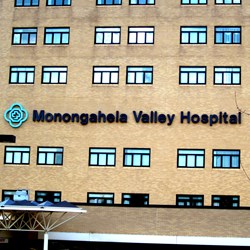 Attempts to repair the original waterproofing membrane failed...so we were looking at a large repair project that needed a permanent solution.
E. Setauket, NY (PRWEB) March 27, 2013
Monongahela Valley Hospital (MVH) in Pennsylvania is a 226-bed, full-service healthcare facility with more than 1,100 employees. It is the largest employer in the mid-Monongahela Valley. The parking garage, immediately adjacent to the hospital, is a multi-story concrete structure that had been in service for decades and was in urgent need of repair.
Like many other parking garages, this structure was plagued by heavy use and damage from water infiltration and corrosion. The waterproofing membrane had failed prematurely, allowing salt-laden water to penetrate the concrete. This accelerated the corrosion of the post tensioning cables, embedded conduits, and rebar.
"Essentially, the structure was DOA," explains Christopher Chen, Director of The PENETRON Group. "Attempts to repair the original waterproofing membrane failed. The hospital could not afford to knock it down and build a new garage, so we were looking at a large repair project that needed a permanent solution."
It was decided to reinforce the uppermost concrete level with underlying steel beams and repair and waterproof the concrete on the underside of the decks to extend the life of the structure. Due to a limited construction budget, a three-step process was applied:

High pressure water blast cleaned the structure and opened the capillaries in the concrete
Existing cracks and repair joints were routed and packed with PENECRETE Mortar
These areas were covered with two coats of PENETRON slurry
The PENETRON material can waterproof concrete even from the negative side of the structure. After application, the chemical reaction between free lime and moisture in the concrete creates crystals to keep water from penetrating the pores and capillaries of the concrete matrix. This type of waterproofing has many advantages; it not only blocks water but also protects concrete from chloride penetration and freeze thaw damage.
Only three weeks after the treatment, the structure was inspected; the garage's concrete decks were completely dry and intact.
The PENETRON Group is a leading manufacturer of specialty construction products for concrete waterproofing, concrete repairs and floor preparation systems. The Group operates through a global network, offering support to the design and construction community through its regional offices, representatives and distribution channels.
For more information on PENETRON waterproofing solutions, please visit http://www.penetron.com, email CRDept(at)penetron(dot)com, or contact the Corporate Relations Department at 631-941-9700.