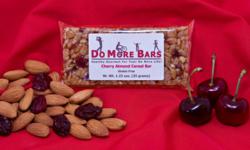 Pisgah Forest, NC (PRWEB) March 26, 2013
Spring is upon us and vacations are on the horizon. For the gluten free traveler, finding foods they can eat along the way can be a challenge. Wheat is a predominant component of the American diet, yet for someone with celiac disease or gluten intolerance, it is off limits. A growing number of Americans, over 3 million, have celiac disease and for them traveling means planning ahead. Carrying food with them is essential. Whether on the road or flying, gluten free bars are a 'must have' for the gluten free traveler. They are easy to carry and a satisfying snack between meals. Do More Bars, gluten free bars are an excellent choice for traveling as they do not melt in the summer or fall apart from being stashed in a purse or backpack. The half size bars are ideal for children. There are a growing number of options for those who can't eat gluten but for gourmet taste and travelability, Do More Bars are a 'must have' for the savvy gluten free traveler. Visit DoMoreBars.com for more information.
Do More Bars gourmet fruit & nut cereal bars are all natural and gluten free bars that come in a variety of flavors: Date Pecan, Pineapple Coconut, Raisin Peanut, Orange Cranberry Pecan, and Cherry Almond. Similar to a rice crispy treat but in a healthy gourmet version, these top rated healthy snack bars are sold in 100 retail locations nationwide, including Ingles grocery stores and Earth Fare supermarkets, as well as online at DoMoreBars.com.
Do More Bars was founded by single-mom Tammy Woods in 2008. The healthy snack bars were created out of a need in Woods' family for snacks that would satisfy her health-conscious mind and her daughter's taste buds. Other bars that appealed to her daughter weren't nutritious and the health food bars weren't appealing to her daughter. With a passion for cooking, Woods set out in the kitchen to create great tasting gluten free bars that were all natural and made with wholesome ingredients. The result was a light, crisp, chewy bar, made with whole grain, fruit & nuts – winning the approval of both mother and daughter. As a matter of fact, her daughter liked them so much she inspired Woods to start the business.