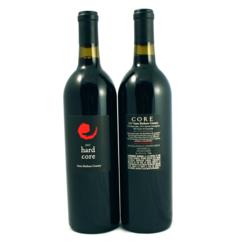 Hard Core is an amazing Red Blend that gets better with every sip.
San Diego, CA (PRWEB) March 25, 2013
Wine Battles, a tournament-style social wine game where you drink the nation's most revered wines to become a more knowledgeable wine enthusiast, announces the 2013 Push Your Palate winner. The battle of the red blends began in January and after seven rounds, CORE Wine's 2007 Hard Core beat out eight competitors and was crowned the national champion.
"The Hard Core wine earned the winning title after months of tasting, deliberating and was finally chosen as the victor by the battlers that participated nationwide," said Michael O'Brien, CEO of Wine Battles. "We are honored to name CORE Wine's 2007 Hard Core as the winner."
Hard Core is a blend of primarily Mourvedre, Cabernet Sauvignon and Syrah with a small amount of Grenache. 100% of the fruit is from Santa Barbara Highlands Vineyard at 3,000 feet in Santa Barbara County. This wine was aged for 30 months and bottled without fining or filtration. Masculine, full-bodied and darkly captivating, this wine offers an incredible balance and hits all points on the palate.
"We are very excited to emerge the victor among so many great red blends," said Dave Cory owner of Core Wine Company, "We loved the Wine Battles experience; it exposed us to thousands of new wine lovers."
Wine Battle members received and rated naturally contrasting bottles of the same varietal of red blends. The Push Your Palate battle allowed members to sample some of the most luscious, thought-provoking red blends the wine industry has to offer. By tasting then voting online, members decide which wine should advance to the next round. Battlers have the rare opportunity to interact with the wine merchants and fellow wine lovers on Wine Battles' exclusive social networking platform while exploring new wines and developing their tasting profiles.
Members opened, decanted and rated the wines using the five-construct system outlined in the Battle Guide—the scores came in real time and members were encouraged to share their findings. The wines competed in a peer to peer bracketed competition, until one wine emerged victorious.
Each vintage competing in the Push Your Palate battle was hand-selected by the Wine Battles' Tasting Crew, from more than 60 battle-hopefuls. CORE Wine 2007 Hard Core beat out Vermeil Wines' 2008 XXXIV Red Blend in the first battle, while the Brassfield Estate Winerys' 2010 Eruption fell to Marilyn Remark Winery's 2009 GSP in the second battle. In the final battle, Hard Core beat Marilyn Remark with several hundred members voting in the competition.
About Wine Battles
Wine Battles is the world's largest (and most fun) wine competition! The unique company launched in October 2012 and is the first wine competition of its kind. Battles consist of four (Final Four) or two (Finals) wines with only one emerging as Battle Champion. Members open, decant and rate two wines—the scores come in real time and members are encouraged to share their findings. The wines compete in a peer to peer bracketed competition, similar to World Cup Soccer or March Madness, until one emerges victorious. Scoring and choosing the correct wines improves members' relative ranking on the website where they compete for awards. For more information visit http://www.winebattles.com.
About CORE Wine Company
Dave and Becky Corey met in 1999 at a grape grower conference held in Santa Maria. In 2001, they married and started their first label CORE with 250 cases of wine. Best known for their blends featuring Mourvedre and Grenache, CORE offers an amazing variety of wine from their unique labels including CORE, Kuyam, Turchi and C3. The CORE wine studio is designed and operated by owner and winemakers Dave and Becky. With over 125 years of family history in the Santa Maria area, CORE Wine feels right at home in historic Old Town Orcutt. For more information visit http://www.corewine.com.