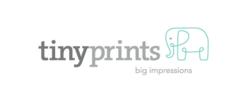 last week of march to be their "Tiny Prints Emphasis Week"
(PRWEB) March 26, 2013
Finding It For Less fights to keep the most current and upcoming discounts for Tiny Prints available and active on their site, having to continually check their sources because they do not want a single promotion to slip through their grasp. That is why new Tiny Prints Coupon Codes can be found on their site at finingitforless.com
Now with spring in full bloom... well almost, if you ignore the random snow storms attacking the northwest; But never the less, there is beauty all around, and the employees at Finding It For Less have filled up their iPhone camera's to capacity with capturing all the beauty that is abounding. With all those photo's it reminded them to encourage everyone to partake with the very good deals offered at Tiny Prints and Shutterfly, to help transform all those great photo's into family keepsakes, lasting memories, and gifts.
Finding It For Less has declared the last week of march to be their "Tiny Prints Emphasis Week" as we all will be taking ample amounts of photo's this Easter weekend, and they want everyone to reap the benefits by turning the photo's into photo books, coffee mugs, greeting cards, and so on.
Finding It For Less would like to encourage everyone to take a peek at what kind of deals are going on for Tiny Prints, available now at FindingItForLess.com, as throughout the rest of this week they will be updating, daily, the available Tiny Prints Coupon Codes and offering some deals that may last only 24 hours. So please, Follow Finding It For Less on Twitter, and like/share them on Facebook in order to keep up to speed with the fast paced changes that will be taking place, and thanks.