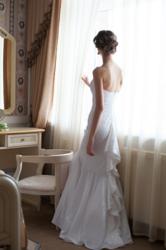 Newport Beach, CA (PRWEB) March 26, 2013
Gone are the days when a bride typically held on to her wedding dress in hopes it would eventually be passed down to her future daughter. In an effort to get the most out of their money, today's brides are finding unconventional ways to get additional usage out of their gowns, Wedding.com finds.
In a Huffington Post article that explores what real brides are doing with their wedding dresses, some of the ideas posed are quite unique and well thought of (http://www.huffingtonpost.com/2013/03/21/wedding-dress-ideas_n_2918004.html). Many are recreating their wedding dresses by either framing it for home décor or having the fabric made into something else such as a quilt. Others will be saving their dresses to wear again for other occasions like a trash the dress photo shoot the following day, traveling all over the world, or re-doing wedding photos. Even still, others would like to donate theirs to a charity. There are several different ways to get more life out of a wedding dress, and brides are finding them all.
"A wedding gown can be a very expensive investment, and brides want to get more for their money," says Brett Reynolds, CEO of Wedding.com. "Instead of wearing it only once, brides nowadays are coming up with unorthodox ways of squeezing another day or two out of their wedding dresses. The possibilities are endless."
For more information about Wedding.com, please visit http://www.wedding.com.
About Wedding.com
Wedding.com is an innovative new website that connects engaged couples planning their wedding with wedding vendors looking to grow their business. Wedding.com contacts vendors for couples, giving them the power to compare and negotiate while ultimately saving time and money. With 12,000 couples and 22,000 vendors currently using the website, 105,000 proposals have already been sent since their inception. Vendors range in services from wedding planners, photographers, florists, and DJs to custom invitations, party favors, and much more. For additional information about the company and its services, please visit http://www.wedding.com.