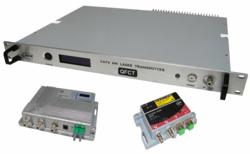 Deerfield Beach, FL (PRWEB) March 27, 2013
Advanced Media Technologies, Inc. (AMT) announced today that they will serve as a stocking distributor for a new line of price shattering optical transmitters, receivers, and nodes manufactured by ATX Networks. The new line of high quality, low cost 1310nm CATV transmission products are designed specifically for transporting QAM and NTSC signals in campus and MDU applications. The new price points will allow facilities to utilize fiber optic technology to transport RF over long distances and to multiple locations while staying within budget.
Now available is the QFCT, a 1310nm optical transmitter with optical power outputs from 4mW (6dBm) to 22mW (14dBm) and a frequency response from 54-1000MHz. The new receiver lineup includes the QHFCN, a standard +25dBmV output mini-node and the QFHPN, a high output node featuring built in AGC and a +40dBmV RF output level. The QFHPN is also available as a one way receiver with dual +44dBmV outputs.
AMT will be stocking these game changing products at their Deerfield Beach, FL distribution facility. Check out ATX's full product line at amt.com.
For more information, please contact:
Rob Narzisi
Sales Manager
Advanced Media Technologies
3150 SW 15th Street
Deerfield Beach, FL 33442
888.293.5856 ext 228
rnarzisi(at)amt(dot)com
About AMT
Advanced Media Technologies, Inc. (AMT) is the performance leader among CATV and High-End Broadband Electronic Equipment Providers. As a value added reseller of high performance products from numerous well known manufacturers, AMT targets emerging technology applications in broadband with a complete line of RF and fiber distribution, video, data, IP, HDTV products and Passive Optical LAN GPON Solutions. In addition to providing expert in-house technical support for RF and IP video distribution systems to Cable TV companies nationwide, AMT systems integration provides Turn-Key solutions for Digital TV Headends, CMTS and VoIP deployment, as well as Design and on-site Technical Support. Additional information on AMT can be found at http://www.amt.com.
About ATX Networks
ATX Networks designs, manufactures, markets and delivers a broad range of products to the global cable television industry. Other market verticals served include hospitality, healthcare, education, government, enterprise, broadcast, private cable and telcos. ATX Networks offers a broad range of digital video products including encoding/ transcoding, multichannel encoding, EPG/stored/live content streaming, bulk content transition, RF and optical transmission, RF filters, transmitters/receivers, headend and MDU amplifiers, node segmentation, node/amp upgrades, monitor/control equipment, pads/EQs, drop amps, digital voice switches, and connectors. For additional information about ATX, please visit http://www.atxnetworks.com.