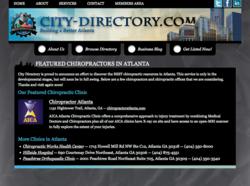 City-Directory, an established online directory in Atlanta, GA, is back with more categories and industries included in their service.
Atlanta, GA (PRWEB) March 26, 2013
After being dormant for a few years, City-Directory, an established online directory in Atlanta, GA, is back with more categories and industries included in their service.
The online directory, compiled by City-Directory, is composed of enterprises that are of high moral integrity and green. City-Directory ensures this through their process of manual review. When companies submit to be in the directory, they are evaluated based on ethics, social responsibility, and eco-consciousness. This approach is beneficial to local and small businesses, something for which City-Directory strives.
When someone searches for "Atlanta chiropractors" on City-Directory, they can be sure they will find only the Atlanta chiropractors that have passed the rigorous review process. In this way, City-Directory encourages both the businesses and the consumers to be more community-conscious. One of the goals of only listing eco-friendly companies is to generate a community that encourages ecologically responsible and socially conscious businesses and provides them with optimal online exposure. To this end, City-Directory employs social media marketing by using sites like Facebook and Twitter to introduce new customers to the businesses listed on City-Directory. In order to continue assisting small businesses, City-Directory helps them capitalize on techniques of using search engine optimization and online networking—things in which large businesses usually dominate.
Any company can apply to be included in the standard directory. As a bonus, when they add a link to a City-Directory approved business on their website, the submission fee will be waived. Companies looking for more exposure may be interested in purchasing a "featured listing" which includes a banner advertisement on City-Directory's home page. One of those Atlanta chiropractors may want to use the "Small Business Blogger" which will create an update page (including customer reviews) for the business, and will be published on pages on the City-Directory website. An annual subscription comes with discounts. Each submission is closely evaluated before it is listed, so that City-Directory can guarantee the integrity of each business.
As the online directory is re-initiated, City-Directory is expanding the companies and industries included in its listings. This renews their commitment to support the community and the businesses that help communities flourish. Chiropractors in Atlanta will be able to find the consumers who hold ethical business practices and environmental friendliness to be of high importance and the consumer can be assured of the quality of the businesses they patronize.
With a greater variety of businesses listed by City-Directory, consumers can use this tool to easily find companies that suit their unique needs and ethics. By expanding, City-Directory hopes to assist businesses, like Atlanta chiropractors, to find a larger customer base by increasing online visibility and vouching for their ethical and environmental integrity, while also helping people find those businesses that share their values.