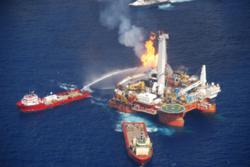 The Alabama coast highlights the problems America faces with dependence on hydrocarbons as an energy source. Sea Lab scientists are on the front lines of assessing the environmental impacts of these events.
Jay Lemery, MD,President, WMS
(PRWEB) March 29, 2013
The Wilderness Medical Society is offering its first CME conference on the environment and human health October 30 - November 3, 2013, on the Alabama Gulf coast at the Dauphin Island Sea Lab.
Of the many examples of environmental change affecting human health, some like water and wastewater treatment have had a positive impact, while others, such as air pollution, toxic chemicals and climate change, have been detrimental. This new conference is designed for healthcare providers to learn how changes in the environment affect the medical conditions of their patients and how to be more engaged at working on solutions.
Guest speakers will renowned biologist and two-time Pulitzer Prize winner E.O. Wilson, and Paul Anastas, PhD, Assistant EPA Administrator, widely known as the father of "Green Chemistry." Speaker themes will include the role of the news media in environmental conservation, green buildings using LEEDS guidelines, biodiversity and historic and medicinal plants of the southern coastal ecosystem
Alabama Outward Bound will provide several optional pre-conference wilderness training opportunities for attendees to choose from.
The Dauphin Island Sea Lab is situated within short walking distance of three major tourist options. Civil War era Fort Gaines lies adjacent to the Sea Lab campus. The Mobile Bay Estuarium is across the street and the renowned Audubon Bird Sanctuary is contiguous to Sea Lab property.
More information about this specialty CME conference is available on the Society's website wms.org.