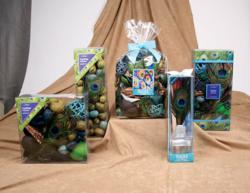 The bold colors always catch my eye and the products simply smell fantastic!
Parsippany, New Jersey (PRWEB) March 26, 2013
Majestic, elegant, beautiful, magnificent, and marvelous - these are just few of the many great adjectives that describe one of the world's most beautiful birds – peacocks. For centuries, the peacock's beautiful feathers have captivated those fortunate enough to see them. As a symbol of wealth, beauty, and royalty, the peacock's majestic plumage has been used for jewelry, art, and accessories for years. Today, with peacocks becoming more and more common sight throughout the world, the peacock's majestic beauty is sweeping the worlds of home fragrance and home décor.
The peacock's beautiful colors have not gone unnoticed by the trendiest and most skilled home fragrance and home décor experts. Using the rich green and blue shades found on nature's finest peacocks, Jodhpuri Inc.'s exceptional design team has created a line of beautiful home fragrance products to spice up any corner of any room. Jodhpuri's new peacock potpourri will brighten up any space with its bold colors and fragrances, while their new elegant peacock-feathered reed diffusers will add a touch of royalty to any atmosphere.
In addition to looking beautiful, Jodhpuri's peacock products will add a pleasant aroma to any atmosphere with Jodhpuri's signature gardenia scents. While real peacocks might not always smell as majestic as they look, Jodhpuri's peacock products will leave any space smelling like a rich bouquet of nature's finest gardenias.
Although the botanicals used in Jodhpuri's potpourri blends come from the world's most exotic places, each individual blend is hand-assembled in the United States for a crisper and higher quality product with shorter lead time. Furthermore, the natural botanicals and fresh fragrance oils used in Jodhpuri's products ensures a strong, lasting, and pleasant scent.
For more information, or to see Jodhpuri's entire product line, please visit http://www.jodhpurionline.com. Jodhpuri products are also available on http://www.amazon.com, search word "Jodhpuri peacock."
Jodhpuri Inc. is headquartered in Parsippany, NJ, and has been in business for over 23 years. Jodhpuri is a leading manufacturer and distributor of home fragrance and décor products, such as reed diffusers, candles and accessories, potpourri, incense, Scented Real Touch Flowers, water acrylics, artificial greenery, and other related items.