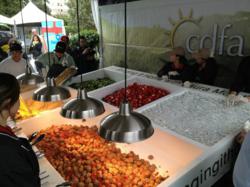 Salinas, CA (PRWEB) March 28, 2013
SALINAS, CA. (March 28, 2013) – Produce industry leader, Tanimura & Antle donated 126 pounds of Artisan Lettuce for the "World's Largest School Lunch Tray" event facilitated by PBS show, "Bringing it Home with Laura McIntosh," as part of the annual California Ag Day festivities in Sacramento March 20.
The 8-foot-by-10-foot reproduction of a school lunch tray was filled with California-grown products to feed over 700 schoolchildren for this annual celebration. Tanimura & Antle's Artisan® Lettuce was the perfect addition to this event promoting healthy eating having been recently received certification as a heart healthy food from the American Heart Association.
Tanimura & Antle is passionate about increasing childhood consumption of fresh fruits and vegetables and has partnered with several industry organizations to promote and teach children about making healthy food choices. To date, Tanimura & Antle has donated a total of seven salad bars to California and Arizona schools through the United Fresh Produce Associations "Let's Move Salad Bars to Schools" campaign; made a donation to the Canadian Produce Marketing Associations Freggie Friday™ In-school Program and partnered with the Western Growers Foundation at the recent Yuma Lettuce Days event to raise awareness of their School Garden initiative.
About Tanimura & Antle
Tanimura & Antle is an industry leader whose commitment to premium quality produce has remained strong since its formation in 1982. The Tanimura & Antle families combined more than 50 years of experience and knowledge to establish a produce company unrivaled in its quality products, innovation and dedication to growers, customers, consumers and employees. Today, as one of the largest independent lettuce growers in the United States, Tanimura & Antle farms more than 30,000 acres of rich, fertile farmland and ships a full line of premium fresh produce products throughout North America, Europe and Asia. For more information, please visit http://www.taproduce.com.
# # #