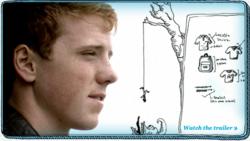 Had I seen this movie when Dylan was functionally illiterate in 4th grade, I would have been spared an extraordinary amount of anxiety about the future
Westport, CT (PRWEB) March 27, 2013
Smart Kids with Learning Disabilities, Inc., the Westport-based nonprofit organization, invites the public to attend an afternoon screening of James Redford's HBO documentary The Big Picture: Rethinking Dyslexia, an official selection of the 2012 Sundance Film Festival. The film will be shown at the Westport Town Hall Auditorium on Sunday, April 7th and will be followed by a panel discussion with Dr. Sally Shaywitz, the renowned expert on dyslexia, in addition to a family featured in the film, and several other participants.
The Big Picture: Rethinking Dyslexia provides accounts of the dyslexic experience from children, experts, and such well-known leaders as Sir Richard Branson, Charles Schwab, and David Boies. Director James Redford has made a very personal film that puts an end to misconceptions about dyslexia, while telling the story of his son's struggle and eventual triumph over his difficulties. As he notes, "Had I seen this movie when Dylan was functionally illiterate in 4th grade, I would have been spared an extraordinary amount of anxiety about the future."
The film also highlights the work of Drs. Sally and Bennett Shaywitz, co-founders and co-directors of the Yale Center for Dyslexia and Creativity, who make it clear that while this neurological condition is an obstacle, it also confers some unique advantages, and can ultimately be overcome.
Both Drs. Sally and Bennett Shaywitz lived in Westport, CT at the time they launched their well-known prospective study on the prevalence of dyslexia, a disorder they and other experts describe as "characterized by an unexpected difficulty in reading in children and adults who otherwise possess the intelligence and motivation considered necessary for accurate and fluent reading."
The panel discussion following the screening of the 50-minute documentary will feature Dr. Sally Shaywitz, as well as Geralyn and Dr. Tyler Lucas, whose story was told in the film. The panelists also include August Hunt, a senior at The Kildonan School and former Smart Kids with Learning Disabilities Youth Achievement Award honoree, as well as Marc Hoffman, the founder of Hoffman Education and a Smart Kids with Learning Disabilities Board Member, who will share their experiences.
The discussion will provide a unique opportunity to assuage the anxiety many families experience, to share real success stories, and to make parents and children aware of the very bright future that awaits children with dyslexia when they are helped to overcome their significant difficulties. Parents are encouraged to bring children 4th grade and older to the program.
Following the discussion, Dr. Shaywitz will sign copies of her bestselling book, Overcoming Dyslexia, which will be available for sale.
Tickets for this event are $10 each, and may be purchased at thebigpicturewithsk.eventbrite.com.
This program is sponsored by Cohen and Wolf, PC, a full-service law firm with offices in Westport and three other Fairfield and New Haven County communities; and by Gault Energy of Westport, now celebrating 150 years of providing home heating oil, propane gas, electricity and heating and air-conditioning services to families throughout Fairfield County, CT.
About Smart Kids with Learning Disabilities, Inc.
Smart Kids with Learning Disabilities, Inc. is a Westport, CT-based nonprofit organization dedicated to empowering the parents of children with learning disabilities and ADHD via its educational programs, award-winning website and blog, and free e-newsletter available at http://www.SmartKidswithLD.org. Henry Winkler, Golden Globe award-winning actor, director and author, serves as the organization's Honorary Chairman.