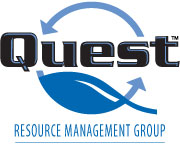 Frisco, TX (PRWEB) March 27, 2013
Sustainable Brands - the global learning, collaboration, and commerce community offering news and views from thought and practice leaders - featured the innovative recycling program that Quest developed to assist Walmart Stores Inc. push toward their zero-waste goal. As a response to Sustainable Brand's editorial content focus in March, "Waste Not: Striving for Net Positivity", the article message focused on the waste and what happens when it leaves the Walmart and Sam's Club store locations.
With Walmart's mass assortment of products comes the need to maximize operational efficiencies with successful outlets for the waste and recycling of such a broad range of materials. As part of its sustainability initiatives, Walmart not only focuses minimizing waste streams, but also on the types of waste it has, how this waste can be recycled and the opportunity it has to maximize it post-use recovery efforts for things such as food waste and used cooking oil from the prepared foods area, as well as used motor oil and used tires from their automotive department. By building a relationship with Quest, Walmart has maintained its focus on reusing and recycling, maximizing both environmental and financial impact.
Quest CEO, Brian Dick, remarks on the success of the program, "We are very excited to be a part of this exciting journey to reduce Walmart's waste to landfill. This program's success is attributed to the hard work of our team and we are all very proud to have helped find this solution for a very challenging problem. In addition, we could not have accomplished this without the belief and support of our organics vendors who invested capital and time into this new industry. This was a tremendous example of sharing resources and knowledge amongst our vendor partners to create a terrific program for our clients."
Environmental sustainability has become an essential ingredient to doing business. As the world's largest retailer, Walmart recognizes the great potential it has to save its customers money and help ensure a better world for generations to come.
Click here to read the full article and to learn how the program is effective at diverting waste and closing the loop through managed recycling efforts.
About Quest
Quest Resource Management Group is a full service environmental consulting and management company, headquartered in Frisco, Texas. Quest helps Fortune 500 companies to maximize profits and mitigate risks, while minimizing their ecological footprints. Quest clients span across all key industry segments, including food services, hospitality, healthcare, manufacturing, construction, automotive aftermarket and fleet industries. Quest Resource Management Group provides North American clients with comprehensive sustainability programs, innovative recycling solutions and proven environmental protection.
Quest prides itself in delivering targeted solutions exclusively tailored to the needs of each respective client. Quest also offers Return on Investment (ROI) and Return on Sustainability (ROS) based road maps to help clients design actionable programs for managing RFPs, defining operational protocols, creating and implementing training programs, and defining best practices. Quest's Sustainability Intelligence Dashboard™ helps clients improve decision making by extracting greater insights through unsurpassed business intelligence.
###