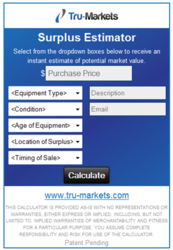 Houston, Texas (PRWEB) March 26, 2013
Tru-Markets, an Investment Recovery Company and Online Marketplace for Surplus Energy Equipment, announced today the launch of an online Surplus Equipment Estimator focused on Oil & Gas capital assets. Until now, a quick, reliable estimate for surplus equipment could be difficult to find. Investment Recovery Professionals, Material Managers, and Supply Chain Managers in need of surplus equipment values can use this new tool to get immediate market estimates using mobile devices or computers. Understanding potential market values early in the surplus lifecycle can help professionals develop stronger sales strategies and ultimately higher recoveries. Market valuations can also assist with storage decisions, internal transfers, and financial accounting decisions within an organization.
The new tool factors in several market elements including equipment types, condition, age, location, and sale timing to quickly provide a desktop market estimate for surplus equipment. The Surplus Equipment Estimator is available to anyone with access to the internet and there is no cost to use the tool. The estimator is also being made available to energy companies that would like to put the interactive calculator on their website and it can be customized using company-specific surplus recovery data to further enhance estimates.
"We are excited to be launching the Surplus Equipment Estimator this week at the preeminent conference for Investment Recovery Professionals, the Investment Recovery Association's 79th Investment Recovery Seminar & Trade show. We received significant feedback from our clients on the need for fast, reliable estimates." said Chad Farrell, Managing Partner at Tru-Markets. "By providing real time market estimates we can save our clients valuable time while providing them key information to make better investment recovery decisions."
The Surplus Equipment Estimator is an open tool that was developed for the benefit of the Investment Recovery industry and it can be accessed on the Tru-Markets web site at http://www.tru-markets.com/surplus-estimator
About Tru-Markets
Tru-Markets is an Investment Recovery Company and Online Marketplace for Energy Equipment. Tru-Markets services are backed by an industry exclusive Tru-Guarantee as well as a Customer Bill of Rights. The company focuses on the capital asset divestment needs of Energy companies and provides solutions and flexible sales channels to market and sell surplus energy equipment. To schedule an interview with Tru-Markets, please contact Tru-Markets at (855) 879-8786. For general information, please visit http://www.tru-markets.com