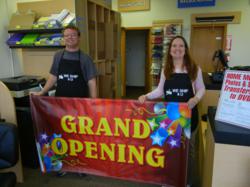 …[we] can handle your shipping needs quickly, easily and affordably.
Clinton, IA (PRWEB) March 26, 2013
The Mail Box Stores, Inc. announces the opening of We Ship 4U in Clinton, IA. The vision of local entrepreneur Judy Dalton, We Ship 4U fills a need for a local full service postal and business center in the area. The store is located at 1635 Lincoln Way in the Miracle Mile Shopping Center, Clinton, IA. We Ship 4U provides more than 25 shipping and business related services, as well as a wide range of related retail products.
We Ship 4U is capable of sending your small package to the other side of the United States, a dog to your friend, or to ship a car to Argentina. Judy says she "…can handle it for you quickly, easily and affordably." We Ship 4U offers shipping, packaging, full color copies, key duplication, passport & ID photos, computer-time rental, internet access, business cards & letterhead production, mailbox rentals, and more.
In addition, We Ship 4U has shipping supplies, corrugated boxes, packaging supplies, bubble wrap, tape, loose fill, shipping labels, cushioned mailers, decorated boxes, and more. For the person on the go, they carry a line of office products, stationary supplies, custom paper, a unique line of greeting cards, gifts and other retail items. We Ship 4U, with their personalized service and easy-access parking, are open from 9:00am to 6:00pm, Monday through Friday, and 9:00am – 2:00pm on Saturdays. Owner Judy Dalton says she is "…confident that We Ship 4U will be well-received in the community."
Judy said she contacted The Mail Box Stores Inc. to help him develop his vision of We Ship 4U. They provided her a complete turnkey business opportunity, including finance, site location, lease assistance, fixtures, merchandise, build-out labor, a expansive training program, and a no-cost long term support program. According to Theresa Whitley, The Mail Box Stores' General Manager, "We have kept Judy involved in every stage of her store's development; from choosing the location and merchandise, to the extensive training, her hard work and dedication will make We Ship 4U a wonderful addition to Clinton—we wish her the greatest success!"
In just over two decades The Mail Box Stores' parent company, Discount Retail Store Services, has opened nearly 3,000 retail stores of various concepts. They specialize in turn-key business setup for those who want to start a business of their own; their exclusive key-services process includes all essential core elements to opening a new enterprise, plus training and ongoing support for the life of the business. The Mail Box Stores' parent company, Discount Retail Store Services, offers clients business models including dollar stores, clothing stores, party stores, teen stores, mail box stores, and fitness centers. Entrepreneurs can get news about The Mail Box Stores from their website or YouTube.