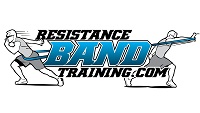 Elizabethtown, KY (PRWEB) March 26, 2013
Dave Schmitz, the owner and founder of Resistance Band Training Systems, LLC, has launched a promotional deal through his company's online store. Through this Wednesday at Midnight EST, all purchases will come without the cost of shipping when used with a promo code.
"I hope that the chance to get bands without the cost of shipping will make people more likely to explore an avenue of training they may not have otherwise tried," Schmitz says. "Resistance band workouts are among the safest and most effective ways to burn fat and train for athletic performance."
Schmitz first discovered the effectiveness of resistance band training during his time as a physical therapist. He found that not only did exercise bands help people recover from injuries, but they could actually boost performance.
"Resistance band workout programs help people move better through the various planes of motions that we encounter in any athletic task," he explains. "When you train with resistance bands, you teach your body to move properly and with force."
Since devoting himself to spreading information about how to get better with bands, Schmitz has built a business around resistance band training. In addition to his appearances at live events, free blog posts, and other services, Schmitz offers numerous products through the ResistanceBandTraining.com store.
Through the ResistanceBandTraining.com store, customers can find a wide range of unique products designed to help them improve their athletic performance and get better at training with bands.
In addition to a variety of resistance bands and resistance band packages, Schmitz also offers DVDs, apparel, band accessories, and the world's first resistance band training certification.
Through this Wednesday at Midnight EST, all of the products in the ResistanceBandTraining.com store are eligible for free shipping with use of the coupon code: freeshiprbt
For more information, visit: https://rbt.infusionsoft.com/app/storeFront/showStoreFront
About Dave Schmitz: Dave Schmitz is the Co-Owner of Resistance Band Training Systems, LLC and the creator of http://www.resistancebandtraining.com, the only website exclusively devoted to training with large continuously looped resistance bands.
Resistance Band Training Systems, LLC is part of the Fitness Consulting Group family of companies. It is the leading resource for resistance band training. RBT offers education on resistance band training, hosts live events, and offers a training certification and other products.
To learn more about resistance bands, visit: http://resistancebandtraining.com/
####