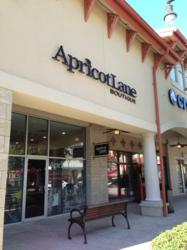 "Our lead flow of new franchisees has never been stronger and existing franchisees are expanding. These are all healthy indicators in franchising which is fueling our growth," explained Ken Petersen founder and CEO of the Apricot Lane franchise.
Vacaville, CA (PRWEB) March 28, 2013
The spring fashion season always helps increase awareness of the Apricot Lane brand as more people are out and about shopping or perhaps searching for their next business opportunity. It's virtually impossible to walk into an Apricot Lane, see the incredible merchandise paired with the pricing and friendly faces and not instantly want to be part of the family.
The celebrity-inspired boutique franchise brings west coast styles and designer labels to the convenience of neighborhoods across the country by offering a very unique franchise system and recently was ranked #252 in Entrepreneur Magazines' annual Franchise 500 issue. The biggest factor setting Apricot Lane apart from other franchises is flexibility, something not often associated with franchising.
"We found that by letting franchisees try new things, it only ended up benefiting our entire company and has helped to increase our growth." explained Ken Petersen, founder and CEO. Petersen founded Apricot Lane along with Tom Brady, both retired firefighters turned fashion gurus. After creating an Apricot Lane store just a few years ago, they began building the company along with Scott Jacobs from the headquarters in Vacaville, CA.
Apricot Lane has experienced exponential growth each year and with the growth of the stores throughout the country, is able to add to the growth of the economy by encouraging people to shop for the latest trends for affordable prices while providing over 700 jobs in the retail industry. Out of those positions, 180 of them were created just within this year alone. Some franchisees have embraced the system so much that they have opened numerous stores in their own neighborhoods, increasing jobs in their local community. In addition, to encourage economic growth while providing accessibility to its shoppers, Apricot Lane launched their shopping website, Apricot Lane Boutique Online, in November, 2012 resulting in jobs for warehouse fulfillment, receiving and more.
"Our lead flow of new franchisees has never been stronger and existing franchisees are expanding. These are all healthy indicators in franchising which is fueling our growth," explained Petersen. In 2012 Apricot Lane showed a 9% comparative sales increase over 2011 with a record 16 consecutive months of increases.
"By providing franchisees with the support and benefits of a large corporate retail system yet still allowing each store owner the flexibility to make their own decisions regarding merchandise selection and more, they are getting the best of both worlds," continued Petersen. "We are there with the technological systems in place for effective communications with franchisees, customers and staff and can hold their hand as much or as little as a store owner desires."
Recently Apricot Lane partnered with Yiftee, a gifting app enabling users to send gifts on the go for simple everyday thank you's! By aligning with social media trends such as Yiftee, Apricot Lane is able to stay on top of current trends in the stores and continues to grow its customer database by interfacing with them on various platforms outside of the stores.
Apricot Lane is part of the popular Country Visions, Inc. franchise, and specializes in unique, one-of-a-kind items and brand names known for their quality and fashionable style trends. The impressive collection of fashion apparel, jewelry, handbags and accessories allows customers to create looks seen on the runway and in the pages of any fashion magazine. The company opened the first store in 2007 and has been featured in the pages of national magazines, TV shows, newspapers and more. For more information visit http://www.apricotlaneusa.com.