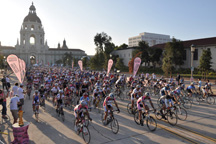 A new feature at Sea Otter Classic: the Italian Island.
Monterey, CA - (PRWEB) March 26, 2013
On Saturday, April 20 as part of the most beloved cycling festival in the nation, The Gran Fondo Giro d'Italia Sea Otter Classic will premier in Monterey, CA, adding its unmistakable Italian twist to this four-day outdoor sport and tradeshow event. The Gran Fondo Giro d'Italia Sea Otter will start from the world-famous Laguna Seca Race Track and will offer two different routes, Carmel Valley (96 miles) and Coastal (49 miles), open to riders of all capabilities willing to experience a real "Italian style" Gran Fondo in one of the greatest cycling areas in the US. Look out for the original Giro d'Italia Trophy (Senza Fine) and get your picture with a backdrop of the Milan Duomo: bellissimo! Impress your cycling buddies with your own personalized bike number and the limited edition jersey by Santini! With stunning views of the majestic Pacific Ocean and lush Californian farms, the Gran Fondo Giro d'Italia Sea Otter will be an experience like no other. Enjoy Italian cycling brands and Pasta Party on the newly created area, the Italian Island, where you can discover products that are sure to please!
Known as the ultimate in the "celebration of cycling," Sea Otter is cycling's North American season opener; it also happens to be one of the nation's largest, attracting a total of 10,000 riders from multiple disciplines and about 50,000 fans. With both professional and amateur athletes alike make the annual pilgrimage to participate in some of the sport's most competitive and enduring events. Hundreds of pro cyclists, including national, world, and Olympic champions attend Sea Otter to race and meet with fans. Not to be missed is the Expo, boosting a wealth of over 400 companies and featuring, for the first time, an Italian Island.
The Gran Fondo Giro d'Italia brings to America a top international appeal and the ultimate expertise in mass-participation productions of a true "Italian" Gran Fondo experience, with breathtaking scenic courses, and challenges that impart an atmosphere typically reserved for professional races, all in a fun "Italian style" environment that brings out the best of this sport.
Other upcoming events by Gran Fondo Giro d'Italia are: New York, NY (May 5); Pasadena, CA (June 2); and Miami, FL (Nov. 10).
Sponsors of the Gran Fondo Giro d'Italia include: Vittoria, Selle Italia, Limar, Santini, Bianchi, Bicycling, Gazzetta dello Sport and Interbike. For additional information please visit http://www.gfgiro.com. Media inquiries please contact Daniela Puglielli at daniela(at)accentpr(dot)com
_ _ _ _ _ _ _ _ _ _ _ _
About the organizers:
Gran Fondo Giro d'Italia is a worldwide series organized by RCS Sport, owner of high-quality sporting events including the Giro d'Italia, Milano – Sanremo, Tour of Lombardy, Tirreno – Adriatico, Strade Bianche (White Roads); the Milano City Marathon; Italian Open; advisor to the national Soccer Team, and to the Inter Football Club; advisor of the Basketball Italian federation and organizer of major events of the Lega Basket "Serie A"; in collaboration with the SDA Bocconi School of Management, RCS is also organizer of the Sport Business Academy. The Gran Fondo Giro d'Italia aims to connect cycling fans to the mystique of the Giro, hence growing the appreciation of Giro d'Italia in the world.