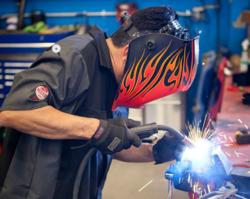 Red Kap manufactures work apparel specific to the automotive market and they understand my business needs," said Ryan Friedlinghaus, founder and CEO of WCC. "That's why they are the exclusive work apparel line of West Coast Customs."
Nashville, TN (PRWEB) March 26, 2013
Red Kap, the world's largest automotive apparel provider, has partnered with global car customizing giant, West Coast Customs (WCC), to provide performance workwear for all WCC employees. The new customized shop gear will debut when the popular show Inside the West Coast Customs moves to its new network, Fox Sports, this summer.
"Work apparel is a big part of the look and feel of the West Coast Customs brand," said Ryan Friedlinghaus, founder and CEO of West Coast Customs. "We spend about 80% of our life in workwear, so it's important that we have the best quality and style for the shop. Red Kap manufactures work apparel specific to the automotive market and they understand my business needs. That's why they are the exclusive work apparel line of West Coast Customs."
This joint venture brings together two well-respected brands that demonstrate an unmatched level of expertise in the automotive industry. For more than three decades, Red Kap has been the uniform-provider of choice for nearly every major original equipment manufacturer in the country. Friedlinghaus' fast-growing West Coast Customs empire has earned him well-deserved notoriety among serious car enthusiasts, entrepreneurs, corporations and celebrities who share a passion for automotive craftsmanship.
"At Red Kap, we're all about "Done Right" and celebrating the people that go the extra mile to do things the right way," said Chris Holcombe, Vice President and General Manager for Red Kap. "We're always on the lookout for partners that embody that spirit, so we were thrilled when West Coast Customs came to us for help with their on-air apparel. Ryan and his crew are extremely passionate about what they do, just like us. We're proud to have them wear the Red Kap name since they represent everything we stand for."
The WCC shop guys will wear Red Kap's fastest-selling product in the company's 80+-year history, the Crew Shirt. With features like innovative ripstop fabric that is 75% stronger than other workwear fabrics and covered buttons that keep paint jobs protected, it is the favorite for any serious car guy.
Lightweight twill cell phone pocket pants and shorts, shop jackets and a no-scratch belt will complete the look. For special events and appearances, crew members will have unique custom work shirts designed specifically for West Coast Customs.
"This partnership helps further cement Red Kap as the go-to brand for automotive apparel," said David Crace, VP of Marketing for Red Kap. "We're already the official work shirt of Powerblock TV and the official provider of shop and crew apparel for Richard Childress Racing. Partnering with Ryan and the WCC crew is a natural fit and a great extension for us."
About Red Kap
Red Kap manufactures comfortable, durable apparel for more than 16 million hard-working professionals and offers unmatched service to approximately 8,000 distributors. For nearly 90 years, the company has provided everything from work shirts and pants to jackets and coveralls for a variety of industries like manufacturing, transportation, and construction while specializing in performance workwear for the automotive industry. Red Kap is a division VF Imagewear, Inc., which is part of VF Corporation, the world's largest apparel manufacturer. Visit http://www.redkapautomotive.com for more information.
About West Coast Customs
Headquartered in Corona, Calif., West Coast Customs was founded in 1993 by Ryan Friedlinghaus. West Coast Customs is known by car enthusiasts as the premiere high-end modification shop that can transform any vehicle into a work of art. West Coast Customs is not only known for building cars but delivering dynamic television content to a wide range of viewers. West Coast Customs has been the exclusive shop featured in MTV show Pimp my Ride, TLC's Street Customs, Street Customs Berlin and now, West Coast Customs. West Coast Customs sponsors include Continental Tire, Best Buy, HP, BASF, PocketFinder, Del City, Monster Cable, Oracle Lighting, Avery Dennison, Praxair, EverCoat, Kaeser Compressors, SLP Performance and Red Kap. __title__ Red Kap's Spot on West Coast Customs]