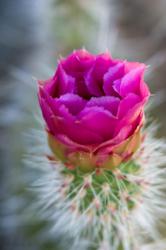 If you are short on time, you can view over 3,000 types of desert plants at the Moorten Botanical Gardens
Palm Desert, California (PRWEB) March 27, 2013
Enjoy the Desert Bloom With Emerald Desert RV Resort!
Deserts are areas that receive very little precipitation. People often use the adjectives hot, dry, and empty to describe deserts, but these words do not tell the whole story. In the Spring, Palm Desert and surrounding areas display beautiful wildflowers like Spanish Needle, Chuparosa, Arizona Lupin, Purple Mat, and Desert Dandelion, not to mention cacti like Prickly Pear, and Beavertail.
Later in Spring, species like the rare Mojave Mound cactus bloom and will be visible in nearby Joshua Tree National Park. If you are short on time, you can view over 3,000 types of desert plants at the Moorten Botanical Gardens, a private arboretum established in 1938 and loved by Palm Springs' residents for generations.
» Read More about the Desert Bloom in Coachella Valley