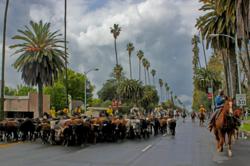 The Stampede is a great event that brings friends and neighbors together from all over. This annual event is part of Chowchilla's heritage and a lot of fun. It is something that locals and visitors alike look forward to each year
(PRWEB) March 26, 2013
If you're in the area of Chowchilla's Robertson Boulevard on Friday, April 5, you may see a few hundred head of cattle making their way down the city's main boulevard. Don't worry, however. It's not the scene of some bizarre accident but the kick off for the 56th annual Chowchilla Western Stampede.
The Stampede is a long-running rodeo that takes place each year at the Chowchilla Madera County Fairgrounds. There have already been numerous qualifier events held leading up to the big rodeo, which is considered one of the premier roping and barrel racing rodeos around.
"The Stampede is a great event that brings friends and neighbors together from all over. This annual event is part of Chowchilla's heritage and a lot of fun. It is something that locals and visitors alike look forward to each year," said Chowchilla Mayor Dennis Haworth.
The excitement kicks off with the annual cattle drive down Robertson Boulevard, a unique way kick off an event for sure: what was once a commonplace occurrence in city's hosting rodeos is now only of only three events like it nationwide.
"To see hundreds of cattle walking down the street is certainly one of those moments that sticks out in your memory," said Jarrod Lyman with the Yosemite Sierra Visitors Bureau.
"One can imagine that it's kind of like looking to the past at what life was like in these western towns many, many years ago," he said.
The cattle drive is followed by three days of rodeo action where some of the best competitors vie for the coveted belt buckle as well as cash rewards.
The cattle drive makes it's way down Robertson Boulevard starting at 10 am. All other rodeo events take place at the indoor arena at the Chowchilla Madera County Fairgrounds. For more information, find their facebook page by searching Chowchilla Western Stampede.
-END-