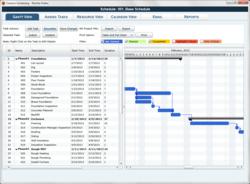 "Being named both a commercial and residential Constructech Top Product for the third consecutive year is quite an honor," said Norman J. Wendl, president of Corecon Technologies, Inc.
Huntington Beach, Calif. (PRWEB) March 27, 2013
Corecon V7, a web-based estimating and project management software suite, was recently selected as a 2013 Constructech magazine commercial Top Product. This recognition comes on the heels of being named a Constructech magazine residential Top Product in February 2013.
The Constructech Commercial Top Products Awards honor technology solutions that have demonstrated outstanding innovation geared toward the commercial construction market.
Winning products are selected based on various criteria, including the product's overall usefulness and uniqueness to the construction industry. Customer growth rate for the past two years for that particular product is also a factor in determining the winning solutions. To learn more, visit http://www.constructech.com.
"Developing the right strategy for technology selection is a vital decision. What are the must-have functionalities? What are the company's goals for implementation? Once that plan is in place, a company can move on to execution," says Peggy Smedley, editorial director, Constructech. "These 2013 commercial Top Products winners are solutions that can help bring IT strategy to fruition, taking a company to a whole new level."
Constructech editors remarked that they particularly liked the move to make Corecon V7 compatible with all Web browsers, ensuring it can be used on all devices and operating systems. Add in the Corecon V7 Teamlink Portal that facilitates collaboration with outside team members, providing access to project information, and Corecon proves to be a well-rounded solution to efficiently manage projects.
"We have reached a point in construction technology where words like mobile, BIM, and collaboration are no longer buzzwords―they are key, in-demand processes that contractors must implement in order to stay relevant," says Mike Carrozzo, chief editor, Constructech. "The 2013 commercial Top Products can meet these demands, and give construction companies the ability to enhance their businesses."
"Being named both a commercial and residential Constructech Top Product for the third consecutive year is quite an honor," said Norman J. Wendl, president of Corecon Technologies, Inc. "Corecon has experienced considerable growth over the last year and we have recently doubled our server capacity in anticipation of providing more commercial and residential construction firms with a complete and collaborative project management solution."
About Corecon Technologies
Corecon Technologies provides project management software solutions for general contractors, subcontractors, homebuilders, remodelers, developers, engineering and professional service firms. Utilizing the latest Web technologies, Corecon V7 provides constant connectivity anywhere, anytime whether using a laptop, netbook, tablet or mobile phone. The firm is the only company with a web-based suite of construction software on the market that provides business development, estimating, document control, contract administration, job cost control, scheduling and collaboration with integration options to popular accounting systems such as Intuit Quickbooks or SAP Business One®. Based in Huntington Beach, Calif., the company was founded more than a decade ago by construction industry experts who seek to design software that provides cost-effective, user-friendly tools to ensure successful project delivery. For more information about Corecon Technologies and Corecon V7, visit http://www.corecon.com or call toll free at 1-866-258-6698.