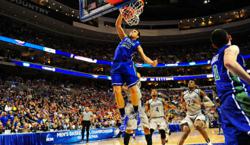 Scottsdale, AZ (PRWEB) March 26, 2013
In celebration of this year's March Madness, Appointment Plus is offering two complementary months of online scheduling software to new annual paying clients.
Since 2001, Appointment Plus has worked with university academic advising departments from across the country. Its student-scheduling software has helped improve student retention and the reduction of no-shows.
Georgetown's Hoyas may have lost to FGCU's Eagles in this year's March Madness, but they did win by using online scheduling for their academic advisors.
"We save 27 hours per week by making one simple switch to online scheduling," says Doug Little of Georgetown University.
Here are three ways Appointment Plus online scheduling software helps academic advising departments save time and money.
1. Reduces student no-show rate.
Online scheduling has automated email and text message reminders so students never forget an appointment. It can even be set up for recurring future appointments.
2. Book Now button on your Facebook page.
The student scheduling software allows students to book an appointment directly from a department website or social media profile. Academic advisors and staff no longer need to pick up the phone or manually enter in an appointment.
3. Go Mobile with online scheduling.
Manage student appointments on any Android or Apple device with an online scheduling app.
"Our Scheduling Cloud™ API enables organizations to build reliable custom integrations," says Bob La Loggia, CEO of Appointment Plus. "We even have the ability for our academic advisors to sync Appointment Plus with Outlook and Google calendars."
Find out if this March Madness Event can help you reduce no-shows by 70 percent and receive two complementary months of online scheduling software. This offer expires March 28, 2013.