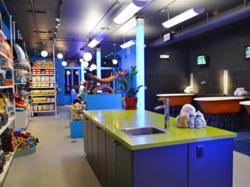 Not Your Average Neighborhood Dog Wash - Not Your Average Online Pet Store
San Rafael, CA (PRWEB) March 26, 2013
K9 Scrub Club, San Francisco's premium dog wash and online pet boutique officially announces the opening of their company headquarters in San Rafael, CA.
They opened their first retail location for dogs and their people in one of San Francisco's best neighborhoods in November of 2011. Creating a pet store like no other, they took what other pet store owners often times consider an add-on service (a self-serve dog wash) and made it the focal point of their business.
"We wanted to improve on the dog wash experience and take it up a notch from what we experienced with other dog washes in the city and in other parts of the country. By focusing on the ease of the experience - to creating a fun, colorful space that people would want to come back to, we pride ourselves on being the best and are constantly looking for ways to improve," said Jason OHara, one of the company's Principals.
The second most important component in their store is the product choices that they carry. With super premium brands like Orijen, Acana, Fromme, PLAY, West Paw, Greenies, K9 Advantix and many more, they work to carry only the best products for dogs and cats and change their product offering often to keep up with trends and advances in the pet industry.
Deciding to open the company office was the next step in growing the company's ecommerce business and creating a space for the team to plan the next phase of the company's growth. They chose San Rafael because of its proximity to San Francisco and where it fit with their plans for the next locations.
The company office is open from 8am to 5pm Monday through Friday and is located at 1050 Northgate Dr Suite 1050, San Rafael, CA 94903. Appointments are typically encouraged, but walk-in customers, vendors and visitors are welcome.