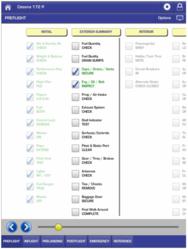 Offers More Capabilities Then Any Other Aviation Checklist App We've Seen.
Atlanta, GA (PRWEB) March 26, 2013
CheckMate Aviation brings a wealth of new capabilities for pilots safety and enjoyment with the introduction of it's aviation app for Apple's iPhone, iPad, and all Android platforms.
One of the most notable capabilities is personalization. Once the free CheckMate aviation app is downloaded and sampled with their generic checklist, the pilot can purchase aircraft specific checklist for their aircraft. That content then becomes theirs to modify to their exact tastes.
There is a web-based content management system where all CheckMate Aviation checklists purchased are stored and modifications can be made from your desktop, as well as on your mobile device. Another first is the ability to view your checklist across both platforms, Apple's iOS and Android's OS.
CheckMate Aviation Inc., established in 1992, is located in Atlanta, GA. Its clients span over 35 countries around the world and provide services for flight schools and pilot stores as well as pilots in general and corporate aviation. They can provide customized systems for aircraft manufacturers, flight schools, training facilities, FBO's, and flying clubs, as well as for individual pilots. CheckMate provides aviation procedures in an unparalleled seven formats as well as several other original pilot supplies.