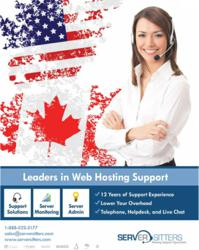 With our first full service data center for Canada, we have responded to customer demand for a technologically advanced, reliable and stable environment to support their requirements
New York, NY (PRWEB) March 25, 2013
As recently as last year, there seemed to be little interest in Canadian-based managed and complex hosting support services. Previously, Canadian companies relied on the U.S. marketplace because of more versatility, and a perceived lack of experience. However, many Canadian hosting companies are starting to choose Server Sitters for its unparalleled expertise in providing the most complete outsourced technical support.
The growth Server Sitters has been experiencing is evident by a recent surge in new clients over the last several months.
The Canadian based outsourced technical support provider Server Sitters recently launched a new data center which is located conveniently in order to accommodate a large number of large clients.
"With our first full service data and support center for Canada, we have responded to customer demand for a technologically advanced, reliable and stable environment to support their requirements," says Adam Gallant, President and Chief Operating Officer of Server Sitters. "The data center also allows us to bring our well-established expertise in outsourced technical support services to some of Canada's leading businesses, and it gives all our customers the added edge of our expertise in major markets all over the world.".
The Whir, Digital Journal, and several network affiliates across North America have covered the recent surge of growth for Server Sitters on several occasions, and Server Sitters management and staff recognize the need to provide the most extensive range of options for business of all shapes and sizes and demographics. The company website http://www.serversitters.com details all options being made available.
"Our goal is to provide the Canadian and United States marketplace with high-quality outsourced tech support and in order to enable our clients to focus on other aspects of their businesses," says Adam Gallant, CEO. When businesses begin to start using managed outsourced support solutions with Server Sitters services, companies like Server Sitters will be prepared. "We're on the blocks and ready for any challenge." he said.
Server Sitters will continue its aggressive global expansion strategy, and guarantees that their clients enjoy the very best level of services available in the outsourced web hosting support industry.
If a business owner has the client handling processes designed, but needs to ensure the client's issues are at the right place at the right time, Server Sitters support packages are the best option. Server Sitters offers customer routing and ticket issue creation from their call desk 24/7. So business owners can rest assured that no matter when an issue arises, someone will be on stand by to solve the issue, and direct the inquiry to the correct person, and fix it as quickly as possible.
Server Sitters will work with customers to create the most streamlined process possible so that business owners are provided with the most efficient 24/7/365 support available.
To find out more on their latest technical support plan offerings by Server Sitters, please visit their official website at: http://www.serversitters.com