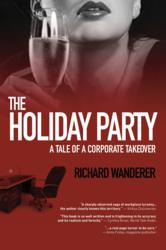 A sharply observed saga of workplace tyranny
Los Angeles, CA (PRWEB) March 27, 2013
Wanderer, the author of "The Holiday Party (A Tale of a Corporate Takeover)", and a member of the California Bar, spent over fifty years working in the advertising sales departments of major national magazines in New York City and Los Angeles. His personal experiences and background makes him an expert in the field of employer/employee relationships and some of the corporate downfalls that affect the older generation of employees.
Despite the recent NBC press release, Jay Leno and Jimmy Fallon top the ABC and CBS time period competition in every key category, for the late night week of March 11th- March 15th, rumors have circulated that the 62 year old, Jay Leno, could be replaced by a younger host when his contract with NBC ends in September of 2014.
The website, Inside TV, recently stated in pertinent part, "Though NBC hasn't officially announced any changes in its late-night lineup, multiple media outlets and sources suggest the network intends to replace the longtime Tonight Show host with Late Night's Jimmy Fallon by the end of next year." The article goes on to mention that if the rumors are true, such actions would be ill advised.
Unlike the fictional Forest Green, the successful senior sales executive in Richard Wanderer's novel, Jay Leno will fortunately never have to worry financially if these rumors prove to be true. Both men enjoy what they do, in their respective fields of endeavor, are eminently successful at it, and certainly feel that when it is time to leave their respective positions they have earned the right to choose the timing - based upon the success they have each brought to the companies they work for.
About Richard Wanderer's Novel:
Richard Wanderer's fictional suspense novel, "The Holiday Party (A Tale of a Corporate Takeover"), deals with the takeover of a family owned national magazine, run in an employee friendly manner, by a huge media conglomerate which installs a Draconian thrift regime. His characters and situations are often an amalgamation of scenarios he encountered over the years. His novel has received very strong reviews: Kirkus Reviews calls it, "A sharply observed saga of workplace tyranny"; San Francisco Book Review, "Page-turner"; MidwestBook Review, "Highly recommended". IndieReader; "Suspenseful"; Bookviews by Alan Caruba;"Leaps off its pages". The book's website is: http://www.theholidayparty-ataleofacorporatetakeover.com __title__ The Holiday Party (A Tale of a Corporate Takeover)].