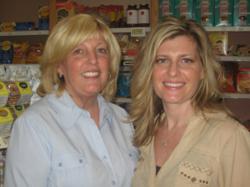 In 2011 a panel of celiac experts settled on a medical term for this condition: non-celiac gluten sensitivity. Nearly 18 million Americans have non-celiac gluten sensitivity.
Orland Park, IL (PRWEB) March 28, 2013
Barbara Griffin, NMD, CNC, Certified Gluten Practitioner and owner of New Vitality Health Foods, Inc. explained, "There are a number of reasons why there is an increase in Celiac disease and gluten sensitivity. One reason gluten sensitivity and Celiac Disease are one the rise is better diagnostics. A second reason is that gluten is a huge component of the American diet and is found in significantly more products than typical wheat products like breads and pasta. The third reason falls into environmental factors. Scientists have discovered that some varieties of wheat contain higher levels of gluten, which accounts for the springy inside and crusty outside desired in bread. Additionally, in its original state gluten is difficult for humans to digest."
Wheat entered the human diet with the introduction of agriculture. For some people, gluten, protein found in wheat, barley, rye the human intestine cannot fully digest. As a result, a whole host of problems can arise.
The average time it takes to diagnosis a person with Celiac disease in the United States is four years. Now medical experts agree that there is a condition related to gluten other than celiac. In 2011 a panel of celiac experts settled on a medical term for this condition: non-celiac gluten sensitivity. This confirms what the nearly 18 million people who have gluten intolerance already know that wheat and gluten can have harmful affects on the human body.
Diagnosis
The diagnosis is done in two steps and is only possible if the person that is being tested is consuming gluten at the time. In a first step, a physician takes specific antibody blood tests. These tests should at least include the following:

Tissue transglutaminase antibody (tTG - lgA/lgG)
Anti-endomysial antibody (lgA EMA)
Anti-gliadin antibody (AGA-IgG, AGA-IgA)
There is a very strong indication for celiac disease if the results of these tests turn out positive. Only in very rare instances does a person with celiac disease show negative blood test results. In a second step, a biopsy of the small intestine should be completed endoscopically in order to confirm the preliminary diagnosis.
A non-invasive testing for the genetic predisposition for celiac and other autoimmune reactions cause by gluten enteropathy can also be performed without a physician prescription.
Celiac Disease vs. Gluten Sensitivity
Celiac disease, an autoimmune disease, is a gluten allergy that causes the human body to attack itself, similar to the reaction that can occur when a virus or bacteria enters the body. Gluten sensitivity, which affects six times as many diagnosed with Celiac disease, can best described as someone who has not tested positive for Celiac disease, but whose health and symptoms improve when they follow a gluten-free diet.
Symptoms
Celiac disease and gluten sensitivity can manifest itself in more than 300 different symptoms. This definitely contributes to the fact that it is so under-diagnosed. Below is a list of the most common symptoms:
Gut Symptoms:

Craving baked goods (cake, cookies, brownies)
Craving high sugar foods
Frequent intestinal bloating or gas especially after eating
IBS - irritable bowel syndrome
Acid reflux - GERD (aka heartburn)
Indigestion
Constipation
Diarrhea
Frequent nausea and or vomiting
Difficulty gaining weight (children under the growth curve)
Iron deficiency anemia
Head and Nervous System Symptoms:

Frequent headaches
Sinus congestion
Migraine Headaches
Poor memory
Vertigo
Poor concentration
Diagnosed with ADD or ADHD
Depression
Anxiety
Irrational irritability
Mood swings
Diagnosed with Chronic Fatigue Syndrome
Muscle and Joint Symptoms

Frequent joint pains with or without activity
Chronic muscle aches
Migrating joint pain (without injury)
Frequent muscle spasms (especially in the legs)
Diagnosed with Fibromyalgia
Diagnosed with autoimmune arthritis (RA, lupus, psoriatic
arthritis, reactive arthritis, ankylosing spondylitis, Sjogren's)

Osteoporosis or osteopenia
Hormonal Symptoms:

Fatigue
Inability to lose weight
Difficulty falling asleep or staying asleep
Infertility
History of miscarriage or spontaneous abortion
Menstrual problems - PMS
Thyroid disease
Diagnosis of Diabetes (type I or type II)
PCOS (polycystic ovary disease)
Skin Problems:

Fever blisters or mouth ulcers
Skin rash
Eczema
Psoriasis
Certified Gluten Practitioner
To assist this growing segment of American population are Certified Gluten Practitioners. They possess a comprehensive understanding of gluten sensitivity, Celiac Disease and its many manifestations. Dr. Griffin and store manager, Diana Sourek, CNC, MS, Certified Gluten Practitioner, are both Certified Gluten Practitioners and lend their knowledge to New Vitality Health Foods, Inc. patrons. "It is very rewarding to have the privilege to follow a client when they start on a gluten-free diet, and see how their entire health can transform. The harmful affects of gluten cross so many functional systems within the body. As a result, adhering to a gluten-free diet dictates for most people a greater sense of wellness," shared Dr. Griffin.
If someone is diagnosed with Celiac disease strict adherence to a gluten-free diet can stop the progression of the disease. Those who have gluten sensitivity often feel so much better on a gluten-free diet that eating gluten-containing foods can become the furthest thought from their imagination.
About New Vitality Health Foods, Inc.:
Established in 1988, New Vitality Health Foods, Inc. provides Chicagolands' largest selection of allergy-free foods that have met their high standards for taste, quality, and nutrition. New allergy-free foods are introduced weekly. They also carry frozen foods, vitamins, herbs, homeopathic, aromatherapy, body care, pet care, household items and much more. New Vitality features only the highest quality, effective nutritional supplements to support its customer' total health. New Vitality Health Foods, Inc. is located at 9177 West 151st Street, Orland Park, Il 60462. (708) 403-0120 http://www.newvitalityhealthfoods.com