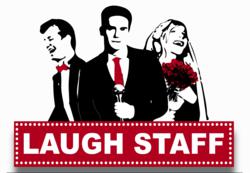 May the best man win
Cleveland, OH (PRWEB) March 27, 2013
Laugh Staff, a new company that helps write best man speeches, will help put all of the "dudes" and the "bros" in all the right places.
With four packages to choose from, guys (and girls) can get the help they need to punch up their speech for the big day. The four packages are:
Package 1: Speech Review ($24.99). For those who have written a speech, but would like a professional comedian to add some quips and witticisms.
Package 2: Speech Review and 15 Minute Coaching ($49.99). This one builds on the previous package, but includes a coaching session to make sure the delivery is the best it can be on the big day.
Package 3: The Big Package...Edits, Reviews, Jokes, and Training ($76.99). This one is made for those who have a few ideas, but need help getting them in order. Package 3 starts by giving the client a best man speech template & questionnaire, as well as two edits from a Laugh Staff consultant plus a live 15-minute consultation.
Package 4: The Total Package ($99.00). If a client has no idea how to start, Laugh Staff coaches will be there to help. They will do the work to make a truly memorable and funny speeches.
Laugh Staff's President, Cameron Amigo, had this to say about Laugh Staff, "It can be hard to know what to say or what's appropriate, and Laugh Staff wants to guide men and women in the right direction. Laugh Staff wants to help our clients keep inside jokes out and make sure every best man and maid of honor can sit back down feeling proud of what they've said." Amigo continued by saying, "Laugh Staff wants to give every client the opportunity to feel like the hero, we want your speech to be the best five minutes you can have with your pants on!"
Laugh Staff, Inc. was founded in 2012 by a team of comedians and writers in Cleveland, Ohio. Laugh Staff helps their clients with best man speeches as well as providing best man speech examples on their blog. They assist best men and maids of honor in speech-editing, speech writing, and provide training on speech delivery. Recognizing the importance of the big day, Laugh Staff's professional comedians work with best men and maids of honor to ensure they make a lasting impression.