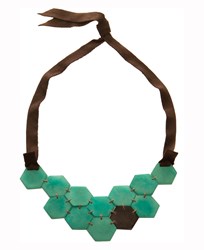 Because of its hard coating and lustrous properties, Tagua nut is often referred to as "green ivory" or "vegetable ivory"
New York, New York (PRWEB) March 27, 2013
Cultural Elements has revamped its online store to include a new assortment of bracelets, earrings and necklaces made from natural Tagua nut chips and slices. This material comes from the fruit pods of the Tagua palm tree and is incredibly popular among South American artists because it is biodegradable, renewable, and easily harvested. Because of its hard coating and lustrous properties, Tagua nut is often referred to as "green ivory" or "vegetable ivory," a desirable and virtually indistinguishable alternative to elephant ivory.
Cultural Elements' Tagua jewelry collection consists of nearly 100 handmade items which contrast the Tagua plant's natural geometry with a dazzling assortment of tropical colors. Because the material is so easily dyed, Tagua jewelry comes in astonishing array of vibrant, electric hues that recall the rich traditions of South American life, art and music. Stretch bracelets, dramatic dangle earrings and multi-strand bead necklaces are some of the most popular and frequently sought incarnations of Tagua jewelry.
Cultural Elements' Tagua collection consists mainly of handmade, fair trade items created by residents of South American communities. This beneficial practice serves as a way for South American states to stimulate local economies without resorting to practices such as cutting down rainforests for lumber and farming purposes.
About Cultural Elements
Cultural Elements is an online store dedicated to creating and preserving "culture-infused living." Their collection of art, gifts and goods is inspired by history and cultural styles from across the globe. Cultural Elements is pleased to feature the work of skilled artisans from Asia, India, South America, Africa and the United States of America.