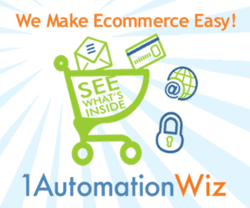 We make e-commerce easy!
St.Louis, MO (PRWEB) March 27, 2013
E-commerce software provider 1AutomationWiz today announced the release of an all new blog at http://news.1automationwiz.com
Designed for the companies subscribers as well as anyone interested learning more about marketing and selling products online.
The new blog features articles on a variety of subjects ranging from tips and advanced strategies for using the 1AutomaitonWiz e-commerce system as well as online marketing strategies, search engine optimization tips, social media and video marketing strategies.
Additionally the blog also features a "Merchant Spotlight" section where each month a new 1AutomationWiz merchant receives the "Merchant Spotlight award for excellence in e-commerce.
Don Schnure director of e-commerce solutions at 1AutomationWiz.com had this to say about the new blog, "Our primary website at 1AutomationWiz.com is designed as a sales tool to provide prospects with all the information that they need before deciding to use our shopping cart solution. But we still needed an educational resource for our users where we could provide tips, tricks and e-commerce strategies for doing business online. The new blog gives us the ability to do that."
New users to the blog will find a uniquely easy to navigate website, updated often with useful strategies and feature articles about ecommerce and marketing online.
About 1AutomationWiz.com:
Recognized as the originator of ecommerce automation software, 1AutomationWiz provides an "all-in-one" solution that offers all the online tools that e-commerce merchants need to grow and build their online businesses
1AutomationWiz bundles shopping cart software, email marketing tools, ad tracking, split testing software, affiliate management tools and more into one easy to use ecommerce automation system.
For more information about the new blog, visit http:news.1automationwiz.com.