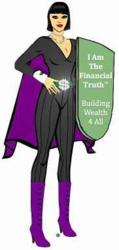 True wealth is obtained and
sustained through your ability to positively relate to your money and effectively utilize it as a building tool to
financial freedom.
Houston, TX (PRWEB) March 26, 2013
Spring is officially here which means warmer weather, longer days, and of course…spring cleaning. While most people clean out their homes this time of year and get rid of clutter taking up space, financial spring cleaning should be a higher priority.
Carla Cargle, financial advisor and award-winning author, released a new e-book "The Financial Truth: The Road to Wealth Begins with You" earlier this year that is the perfect start for financial spring cleaning. Cargle walks readers through an inventory of their personal priorities, current financial situation, and goals. Cargle's approach is much different than the average financial advisor, focusing on personal passions and habits to guide an individual's financial road to success.
"Knowing who you are, what your spending habits look like, what your passions are, and what are your biggest priorities in life is the keystone to financial success. Most financial advisors are focused on making you the most money possible, even if that's at the expense of your own happiness. But I always tell my clients that money doesn't make you happy. Let your priorities guide you and the rest will follow. Wealth looks different for everyone," says Cargle.
The first chapter of Cargle's book begins quite differently than the typical financial advice book. She begins by addressing the soul of an individual's money. This "soul" is the foundation of a financial pyramid that Cargle expands on throughout the book.
"Oftentimes experts describe wealth as strictly a result of making the right investment, owning valuable real estate, signing a large sports contract or receiving a substantial inheritance. True wealth is obtained and sustained through your ability to positively relate to your money and effectively utilize it as a building tool to financial freedom. What is your money personality? How do you view and spend money? Do you see money as a reflection of your personality and indicator of happiness? Understanding the answers to these questions first will help you lay out a plan that will make you, a unique individual, successful financially," says Cargle.
With money personality at the foundation, Cargle walks readers up the rest of her financial pyramid plan. She helps readers identify money management skills, financial foundation choices like long term care and life insurance, stability in real estate and money market accounts, accumulation of wealth through business ownership and mutual funds, and lastly investment to then multiply wealth.
This book makes it easy enough that even a financial dummy, swimming in debt could follow the steps and be on their way to financial freedom. It is the perfect spring cleaning project. What better way to save money and buy new things to fill up the space in your home that you're cleaning out, says Cargle.
About Carla Cargle
Carla, a Financial Advisor, Author and Professional Speaker, has committed her life to economically and financially empower the community. She is a graduate of Hampton University in Hampton, VA. She has been a practicing Financial Advisor since 1992.
In 2002, Carla founded Genesis One Wealth Builders, a Financial Advisory Firm with an emphasis on Retirement Planning and Corporate Financial Education Training.
As an Advocate for Economic and Financial Empowerment across the country, Carla is a frequently featured television and radio guest throughout the United States, and has been featured in national publications.Carla serves as a featured Financial Contributor for Houston's major television networks. She has served as a Judge for the Miller Coors Urban Entrepreneurial Business Plan Contest since 2008.
Carla is the author of "The Financial Truth" ™ book series and the National Urban League's nationally acclaimed Economic Empowerment program entitled, "Know Your Money". Programs written and taught by Carla have impacted over 1 Million Americans since the year 2002.
Carla hosted the internationally applauded internet talk radio show; "The Financial Truth with Carla Cargle" on the VoiceAmerica network in 2007 reaching listeners around the world.
Carla is a member of the National Association of Insurance and Financial Advisors where she has served on the Board of Directors, Houston chapter. In addition Carla has been a qualifying member of the Million Dollar Round Table. She is featured in the 2007 inaugural edition of Who's Who in Black Houston. Carla is celebrated with awards and honors throughout her community.
Preview the new E-Book.
Sign up to receive Carla's Wealth e-Inspirations. Cargle available for interviews.