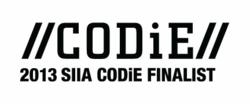 "We're honored and pleased to be named as a finalist across three separate categories for the CODiE Awards this year," said Tom Dibble, President and CEO of Aria Systems.
Washington, D.C. (PRWEB) March 26, 2013
Aria Systems, SaaS-based Subscription billing expert, today announced that the Aria Systems Subscription Billing and Management Platform was named a finalist for the 2013 SIIA Software CODiE Awards for three categories: Best Monetization Solution, Best Cloud Application Service and Best eCommerce & Billing Platform. The SIIA CODiE Awards are the premier award for the software and information industries and have been recognizing product excellence for 27 years. The awards have over 75 categories and are organized by industry focus of Content, Education and Software.
This year there were 27 software categories including twelve new and updated categories that reflect the continued growth and evolution of cloud computing, mobile, big data, and video. Winners will be announced during a special awards luncheon on May 9 in San Francisco during the industry's most comprehensive ISV conference, All About the Cloud.
As companies enter the world of subscription commerce, Aria's SaaS-based Subscription Billing Platform enables businesses to grow and maximize their recurring revenue businesses. Because go-to-market strategies inevitably shift, companies need the flexibility to adjust their monetization strategies as often and aggressively as they see fit. Aria's SaaS billing platform shortens the time to bring new products and services to market, optimizes plans and pricing strategies, and maximizes recurring revenue while maintaining and growing customer relationships.
"We're honored and pleased to be named as a finalist across three separate categories for the CODiE Awards this year," said Tom Dibble, President and CEO of Aria Systems.
"The CODiE Awards competition was extremely competitive this year, and all of the finalists should be commended for their innovative products and services," said Rhianna Collier, VP for the Software Division at SIIA. "We look forward to honoring the winners at our awards program in May at All About the Cloud."
Details about each finalist are listed at http://siia.net/codies/2013/finalists.asp
About SIIA
SIIA is the leading association representing the software and digital content industries. SIIA represents approximately 700 member companies worldwide that develop software and digital information content. Information technology (IT) and software security are critical issues to SIIA's members, many of whom strive to develop safe, secure and state-of the-art products that effectively serve their commercial and government customers alike, while protecting their intellectual property.
The SIIA Software Division provides a forum for companies developing the applications, services, infrastructure and tools that are driving the software and services industry forward. For further information, visit http://www.siia.net/software.
About Aria Systems
Aria Systems delivers the full power of subscription commerce to transform business by creating new revenue opportunities, improving customer relationships and providing more business predictability. The Aria Subscription Billing and Management Platform was chosen by brand name companies such as Pitney Bowes, Experian, AAA NCNU, Red Hat, Ingersoll Rand, EMC, VMware, and HootSuite to evolve their subscription businesses while delivering outstanding customer experiences.
Take a look at the new Recurring Revenue video where Aria's CEO, Tom Dibble, talks about growing recurring revenue streams, or download the Maximizing Revenues through Customer Subscription Processes whitepaper. Visit http://www.ariasystems.com or call 1-877-755-2370.