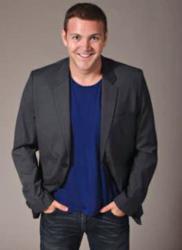 There's no other program on the market like this - it's the first of its kind.
New York, NY (PRWEB) March 27, 2013
The College Board, creator of the SAT, says its infamous test will soon be changed to increase its degree of difficulty, but SAT Guru Anthony-James Green says it doesn't matter what is changed on the test; his new 30-Day SAT Crash Course will help any student pass the test with ease.
"It doesn't matter what they change, the concepts and fundamental principles that are revealed in my crash course will boost any student's SAT score by 200 plus point in 30 days or less," Green said of his new program. "Results are already coming in from our users, and they're almost unreal. The value of the program doesn't come from its random tips and tricks- it comes from the fact that the program is grounded in concrete educational principles. Those don't change regardless of the material tested."
The SAT, first given in 1926, was revamped less than a decade ago when a written essay was added and some of the question formats were changed. Last year, for the first time, it lost its designation as the most popular college admissions exam to the ACT, by a margin of a few thousand students.
The College Board, late last year, appointed a new president, David Coleman, who was a co-writer of the Common Core State Standards.
In a recent speech at the Brookings Institution, Coleman said he has a number of problems with the SAT as now written, including with its essay and vocabulary words.
The College Board Vice President Peter Kauffmann said the following e-mail message was sent to all members of the College Board: "In the months ahead, the College Board will begin an effort in collaboration with its membership to redesign the SAT so that it better meets the needs of students, schools, and colleges at all levels."
Green noted that standardized test are designed to present a challenge for students, but added that in his crash course, students won't have to worry about any changes on the SAT, now or in the future.
"The College Board can change a test as often as they want, but one thing they can't change or take away from any student is the knowledge they've acquired," Green said. "When students combine the knowledge they've acquired in school, the knowledge they've acquired through their life experience, and the knowledge gleaned through my program, they'll always get high scores. No small changes in format can defeat students who've truly put in the mental effort to succeed."
Green's new program, the only SAT program designed specifically for last-minute SAT prep, guarantees that students will improve their SAT score by at least 200 plus points without the need for tutoring, classes, or additional expense.
However, the program doesn't only offer big results - it also offers a level of convenience sorely needed in the industry. The 30-Day SAT Crash Course is an online program which can be used anytime, anywhere, on any student schedule, from any internet-connected device.
The program has been winning accolades from students, parents, and industry insiders alike.
"This course is the best short-term SAT program ever developed," says David Montesano, founder of College Match US and well-renowned in the college admissions industry. "There's simply no other way to improve your score by this many points in such a short period of time."
Students and parents looking to learn more about the 30-Day SAT Crash Course can visit its website via the following URL:
For students and parents with more time to prep for the SAT, Green has also developed a more all-encompassing SAT program called The 60-Day SAT Prescription, which offers a guaranteed score improvement of over 300 points. Those interested in learning more can visit the 60-Day SAT Prescription site via the following URL:
Green is known as one of the best SAT tutors alive, and has been called the most recommended, most talked-about SAT tutor in America. He has tutored over 330 students 1-on-1, with an average score improvement of over 400 points. He's also the creator of the wildly popular SAT vocab software, Vivid Vocab, which he recently made free to all users via the following URL:
Green is also the author of Test Prep for Parents, an extremely popular guide for parents which helps to guide them through the test prep process. Parents can buy the book on Amazon via the following URL:
http://www.amazon.com/Test-Prep-Parents-Incredible-ebook/dp/B00AY5WB5I/ref=sr_1_1?ie=UTF8&qid=1364305954&sr=8-1&keywords=test+prep+for+parents
Green's new projects include his free SAT resource centers, Test Prep for Parents and Teach Yourself the SAT. Green tutors the SAT full-time when not working on his product line of test prep programs and curricula.
Green lives in Los Angeles.
###