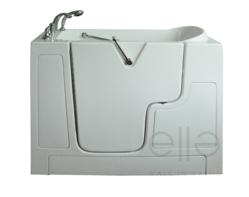 These new walk in bathtubs and handicap shower systems have features and options that set them apart.
Denver, CO (PRWEB) March 26, 2013
Aging Safely Baths & More, a national supplier of walk in bathtubs announces they will be expanding their elderly bathtub product line. The additions will include a greater selection of acrylic and gel coated walk in tubs and handicap shower stalls.
The company will be offering customers a new 3053 model that comes standard with powerful air and water jets, low step entry and an extension kit which can make installation in an existing location much easier. This special elderly bathtub is designed to fit in relatively tight places, making it ideal for homeowners that are remodeling or retrofitting a step in tub.
Aging in place technologies are changing rapidly and it is easier than ever for the elderly to have several options when it comes to finding bathing products that are conducive to minimizing falls in the bathroom when used properly. Unfortunately the bathroom is considered one of the more dangerous rooms in the home and for the elderly it can be a real challenge and obstacle to overcome. Walk in bathtubs and handicap shower stalls can be used to minimize the risks involved with bathing.
However, having the right tools is only part of the battle. Granted there's no such thing as a perfectly safe bathroom. Customers that are especially proactive can design their home in a manner that best suits their specific and unique needs. Walk in bathtubs, handicap shower stalls and safety grab bars can be great resources for those who are aging in place, and potentially help add additional independence and peace of mind while bathing.
Finding the best walk in tubs can especially be a challenge, given the plethora of choices available to shoppers. For this reason, Aging Safely only sells walk in bathtubs that have specific defining standards of quality and uniqueness. According to the company, each handicap shower stall or walk in tub has unique differences in size and functionality between the models.
Adding the 3053 will provide retail shoppers and contractors an additional size that may be the perfect fit for applications that require a tighter than normal fit. This specialty step in tub comes standard with a roman faucet set, handheld shower, drain and overflow. Many walk in bathtubs are designed to fit into an ordinary size bathroom and typically a major remodel is not necessary.
Aging Safely offers many of the leading walk in bathtubs on the market, as well as American made handicap shower stalls and transfer bathtubs. Shoppers are invited to contact an Aging Safely representative about these specialty walk in tubs and current incentives.
Contact information:
Zach Wennstedt
1-888-779-BATH(2284)
info(at)agingsafelybaths(dot)com