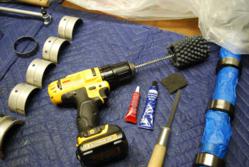 Rebuilding an engine takes time, but surface finishing the cylinder walls with the BRM Flex-Hone® tool is easy.
Los Angeles, CA (PRWEB) March 26, 2013
Brush Research Manufacturing (BRM), makers of cylinder honing tools for car engines, is now providing a surface finishing solution to auto mechanics, proving that BRM ball hones are better for deburring cylinder bores. Recently, the California company described an engine restoration project at ls1tech.com, an automotive website with forums for gearheads. An auto mechanic from Pittsburgh, Pennsylvania completed an engine restoration project that's familiar to many do-it-yourselfers, but with a BRM ball hone that provided a superior surface finishing solution for cylinder bores.
Rebuilding LS1 Engines
After getting his used LS1 engine back from the machine shop, the owner of the 2002 Pontiac Firebird Trans Am announced why he chose to rebuild the block himself. "I have too much energy and money invested to trust this process to someone else," the mechanic explained. That's when he chose the Flex-Hone® tool from Brush Research Manufacturing (BRM), a flexible engine hone for a superior surface finish.
Piston Ring Seating and Sealing
During engine block machining, honing stones leave behind residue that can damage piston rings and prevent proper sealing and seating. Wiping down the bores is easy enough, but rigid hones can leave behind metal burrs and high spots that prove problematic. By using the Flex-Hone® tool, however, auto mechanics can remove cut, torn, and folded metal and produce a plateau finish.
Ball Hones for Cylinder Deburring
BRM's ball hone is a flexible honing tool that mounts in a handheld electric drill to produce a long-wearing surface. Self-centering and self-aligning to the bore, this engine hone is ideal for deburring, a post-machining operation that's critical in automotive applications. Versatile and easy-to-use, the BRM Flex-Hone® tool is also used improve the surface finish of camshafts, valves, clutches, and brakes.
Cylinder Honing Tools for Plateau Finishing
BRM's cylinder honing tool also produces a cross-hatched pattern that helps oil adhere to cylinder walls. To promote optimum lubrication, the flex ball hone uses a soft cutting action that leaves the base metal undisturbed. This low-temperature abrading process produces a substantially flat or plateau finish with grooves for improved oil retention.
Plateau Hones for Engine Cylinders
BRM pioneered the concept of plateau honing, a surface finishing technique that's ideal for any size and type cylinder. For the Trans Am engine mechanic at ls1tech.com, running the Flex-Hone® "very briefly on the cylinder bore" produced a surface finish that also eliminated a cam bearing problem. Rebuilding an engine takes time, of course, but honing cylinder walls with a flexible hone is easy with Brush Research.
About Brush Research Manufacturing
Brush Research Manufacturing (BRM) is a Made in the U.S.A. manufacturer located in Los Angeles, California. Since 1958, BRM has been solving difficult finishing problems with brushing technology. BRM's Flex-Hone® tool is the standard against which all other surface finishing tools are compared.
Media Contact:
Heather Jones
Director of Marketing
Brush Research Manufacturing Co. Inc.
4642 Floral Drive
Los Angeles, CA 90022
HJones(at)brushresearch(dot)com
For Immediate Release:
www(dot)brushresearch(dot)com
Ph: (323) 261-2193