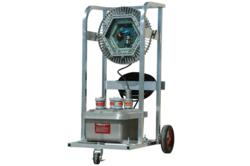 By incorporating a large work area light, operators can get the big picture, while using their handheld corded lights for illuminating specific tasks.
Kemp, Texas (PRWEB) March 26, 2013
Incorporating the need for power, light and portability into a single product, Larson Electronics Magnalight unveiled the EPL-TX-500-4-1MLED explosion proof light and transformer combination cart. The 150 watt LED carries a Class 1 and 2 Division 1 rating and delivers 10,000 lumens for operators working in low light conditions. The four explosion outlets enables operators to step down 120V or 240V power to 12 or 24 Volts AC or DC to run 100 watt hand lamps, grinders or other tools needed in hazardous location areas. The wheeled cart form factor enables operators to position the light head where needed and provides access for connecting corded tools. The integrated cord reel keeps the SOOW power cord out of the way.
"Many of our customers need low voltage handheld lighting, but can't necessarily get the transformer out of the hazardous area," said Rob Bresnahan with Magnalight.com. "Particularly with the advent of our explosion proof LED lighting, there are many low voltage options for LED trouble lights which are compatible with this Class 1 Division 1 transformer. By incorporating a large work area light, operators can get the big picture, while using their handheld corded lights for illuminating specific tasks. Like all of our products, we can customize this solution to fit the needs of our customers, by increasing transformer size, outlet count and type and light head configuration."
Larson Electronics produces a wide range of Class 1 and 2 Division 1 power and lighting solutions for commercial and industrial operations. Please visit Magnalight.com for more information or contact 1-800-369-6671 (1-903-498-3363 international) or email sales(at)magnalight(dot)com