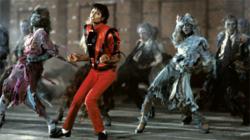 Thriller was Michael Jackson's music video masterpiece and any award from even the Beatles, Elvis, Madonna or the Rolling Stones isn't expected to match this piece at auction. It is the second most expensive Jackson item to be sold at auction after the $1
Los Angeles, CA (PRWEB) March 25, 2013
The MTV Moonman Award for Michael Jackson's "Thriller" -- The Most Iconic MTV Award Ever Offered for Sale & From The First Ever MTV Video Music Awards Ceremony in 1984
The "Moonman" award was issued in 1984 at the cable network's inaugural VMAs. The viewer's choice accolade was given out for the iconic "Thriller" music video.
"'Thriller' was Michael Jackson's music video masterpiece and any award from even the Beatles, Elvis, Madonna or the Rolling Stones isn't expected to match this piece at auction. It is the second most expensive Jackson item to be sold at auction after the $1.8 million 'Thriller' jacket," said Nate D. Sanders, whose memorabilia auction house is selling the award.
As of Monday, the item had received three bids of $10,000+, but according to Sanders, the award is expected to sell for well over $100,000. The auction ends April 2, according to the west LA-based auction company.
About Nate Sanders
Our company was founded by Nate Sanders in 1986 as "Nate's Autographs" in Baltimore, Maryland, and initially dealt with inexpensive Hollywood signed photos and memorabilia, sent via mail catalog to a few local clients. In the years since this modest beginning, the company has moved to Los Angeles, done many millions of dollars in business, and now sends out several auction catalogs a year featuring rare autographed items, books, fine art, and other collectibles to a client base reaching around the globe. We also execute private sales with our clients, who enlist us to help them acquire some of the most rare and expensive collectibles available.