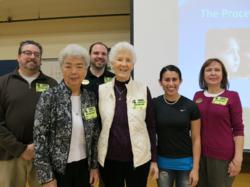 "Through this program we hope that the wisdom of the older adults shared with the students while they are still young, will help their understanding and well-being later in life."
Chicago, IL (PRWEB) March 26, 2013
Friendship Village's lifestyles program Healthy 4 Life, was chosen as the winner in the Community Impact category of the Life Services Network (LSN) 2013 Honoring Excellence Award Program. This is the second time within the past three years in which Friendship Village has earned the award.
Life Services Network is the largest eldercare association in Illinois, representing the leading providers of complete continuum of care services for older adults.
Healthy4Life, an intergenerational program developed by the Lifestyles Department of Friendship Village, teaches area junior high students about the process of aging and the importance of a healthy lifestyle. It also promotes understanding of ageism: the prejudice, discrimination or stereotyping against individuals or organizations based on their ages.
Mike McCann, director of lifestyles at Friendship Village explained that the program helps the students to understand that just as their bodies are changing because of puberty, so are seniors' bodies changing because of aging. Healthy4Life incorporates empathy activities allowing the kids to experience some of the physical challenges faced by older adults.
Healthy4Life also helps the students to understand challenges that they share in common with older adults, by asking them questions such as, "Do you prefer to be with your friends? Do you hate to be told what to do? Do you get frustrated when people don't listen to what you have to say? Do you dislike it when you're not able to do things that you want to do, such as driving?"
"Through this program we hope that the wisdom of the older adults shared with the students while they are still young, will help their understanding and well-being later in life," said McCann.
Healthy4Life is presented to all seventh grade students in Schaumburg, IL District 54. Members of the lifestyles department at Friendship Village facilitate the program with the help of some of the residents.
"We are deeply humbled and honored to receive the LSN Honoring Excellence Award. One of our philosophies of our intergenerational programming is that the younger generations always stands on the shoulders of the older generation. Both generations can learn from each other, share and discuss values and make an impact on their legacies," said McCann.
The award will be presented on Wednesday, May 1, 2013 during the LSN's Annual Meeting and Exhibition at Navy Pier, Chicago.
About Friendship Village:
Friendship Village is a leading Chicago continuing care retirement community offering a complete continuum of care including independent living garden homes and apartment homes, as well as assisted living, memory support, skilled care, and short- and long-term rehabilitation services. For more than 35 years, Friendship Village has been providing Chicago area seniors with exceptional retirement living options.