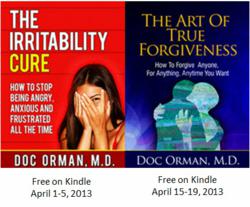 Baltimore, Maryland (PRWEB) March 28, 2013
This year marks the 21st year that April has been designated National Stress Awareness Month (http://stressawarenessmonth.com) .
Sponsored annually by The Health Resource Network, Inc. (HRN), a non-profit health education organization, Stress Awareness Month is a national, cooperative effort to inform people about the dangers of stress, successful coping strategies, and harmful misconceptions about stress that are prevalent in our society.
"Even though we've learned a lot about stress," says Dr. Morton C. Orman, M.D., Founder and Director of HRN, "we still have a long way to go." According to Dr. Orman, there are many new ways of understanding and dealing with stress that are not well known but could help millions of Americans eliminate their suffering.
This year, Dr. Orman will be focusing on the problem of increasing anger in our society. During the month of April, he will be making available (at no cost) two of his recently published self-help guides on how to reduce anger and irritability as well as how to truly forgive.
"If we look around today, we see that physical abuse, homicides, road rage, divorces, religious conflicts, and political divisiveness are all increasing," he notes. "These are all signs that we lack deep clarity about what really causes our anger to occur and what we need to know in order to forgive other people."
To personally support Stress Awareness Month this April, Dr. Orman will be offering his recently published Kindle book "The Irritability Cure" for download on Amazon.com from April 1-5. His second Kindle book "The Art Of True Forgiveness" will be available from April 15-19.
For more details about National Stress Awareness Month 2013, please visit http://stressawarenessmonth.com . The Health Resource Network, Inc. (HRN) is a small, privately-owned, non-profit health education corporation (501C3), founded in Baltimore, Maryland in 1982.