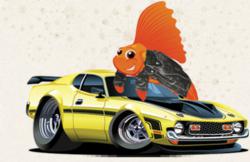 I've always thought that our credit-scoring model was funny, because you need to have debt in order to establish any sort of credit.
New York, NY (PRWEB) March 30, 2013
RoadFish.com men's lifestyle and finance magazine today issued their statement in response to a Forbes article published on March 25th, 2013 that sheds light on the imperfections of America's current credit scoring model. The Forbes article reported that millions of Americans are prevented from having a credit score with the way they are being tallied, which thus also inhibits them from obtaining home loans, starting businesses, and buy cars. RoadFish.com agrees that there should be more outlets taken into consideration when computing a credit score, and questions why the current model is so exclusive.
Jose Quinonez of Ashoka reported for Forbes on the difficulties that many Americans are having obtaining credit scores with the current credit-scoring model. Quinonez states that according to Experian, roughly 66 million Americans are considered unscoreable, meaning that they do not have enough credit history in order to produce or qualify for a credit score. Quinonez points out that without a credit score, consumers are unable to accomplish goals such as start businesses with a loan, purchase a house or car through a loan, rent an apartment or in some cases even land a job.
Quinonez explains in the Forbes article that there are flaws in the current credit scoring model which prevent millions of financially trustworthy Americans from having a credit score, thus hindering the U.S. economy in a big way. Quinonez's solution is to modify the credit scoring models to be more inclusive, meaning that they would not only include debt and loan information on one's credit report but also financial obligations such as utilities, rent, and social loans. This way, even people who don't have credit cards or loans will still have enough credit history to generate a credit score.
RoadFish.com thinks it is illogical that so many people are unable to qualify for a credit score when they are such a necessary piece of financial data and integral for proving one's trustworthiness in paying back loans. RoadFish.com's Senior staff writer is quoted as saying, "It's absolutely absurd that there are 66 million people out there without credit scores, when I'm sure many of them are more than responsible and upright when it comes to finances. I've always thought that our credit-scoring model was funny, because you need to have debt in order to establish any sort of credit. What if somebody doesn't have any debt? What if they have no student loans and no credit card, because they've always used their money wisely and pay with debit? Why should they be punished rather than rewarded? I agree with the Forbes article that there ought to be some serious changes to the way credit scores are generated."
The above-mentioned Forbes article states that the U.S. economy is being negatively impacted by the millions of people who cannot qualify for loans due to lack of credit scores. Author Quinonez explains that by including fuller pictures of consumers' financial lives, those who currently do not possess enough credit data to generate a credit score would thus become scoreable. He states that 38.7 million American households pay rent each month, so including rent on a credit report would not be an insignificant change. Also, 60% of unscoreable consumers could possess a credit score if positive utility and cell phone payments could be reported to credit bureaus. However, utility and cell phone companies currently only report negative payment information and do not include positive account activity.
About RoadFish.com:
RoadFish.com is a men's financial and lifestyle magazine that can be found online. It is geared towards men in their 30's and 40's who are mostly successful in their personal and professional lives, and are seeking new challenges and chances to thrive. The popular online magazine regularly features articles about dating, hot chicks, luxury items, and restaurant reviews. Financial topics include financial software, tips for budgeting, advice on chipping away at debt. RoadFish.com is owned and operated by Purpose, Inc.