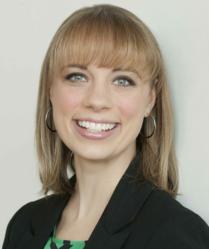 Today, a well-constructed, functional government website can serve as an extra staff member for cash-strapped agencies. My goal is to guide the development of innovations that will help local government do more with less."
SANTA MONICA, Calif. (PRWEB) March 26, 2013
In a move that signals the public sector's growing need for advanced website functionality and online solutions, Vision Internet, a national leader in government website development, today named Kansas native Ashley Fruechting Director of Strategic Initiatives.
A member of the company's leadership team, Fruechting now is responsible for tracking and monitoring technological trends and providing the Vision Internet product development team with insights into issues and challenges faced by local governments today. She will lead multifunctional teams to explore new business development and growth opportunities, cultivate key business relationships, and expedite the deployment of cost-effective solutions that increase government efficiency, transparency and interactive communications with citizens.
"Forward-thinking cities and counties across North America are embracing new, tech-savvy ways of doing business and serving constituents," said Steve Chapin, president of Vision Internet. "Vision Internet prides itself on taking the latest private sector technology available and bringing it to local government in a way that makes sense for public agencies. Ashley has worked hand-in-hand with local governments since the early days of the eGovernment movement. She brings innovative thinking and first-hand knowledge of best practices to her new role."
A graduate of Kansas State University in Manhattan, Kan., Fruechting began her career as a staffer for a US Congressman where she honed her skills in constituent relations and saw how government runs from the inside out. She accepted a position as regional sales director with a local Kansas-based website development firm CivicPlus in 2006, where she worked with cities and counties throughout the western U.S. In 2009, Fruechting moved to industry leader Vision Internet as a senior account executive with nationwide responsibilities, a position she held until her most recent appointment.
"During my seven years in the government website development industry, I have helped thousands of local governments define their goals and bring their services to life online," Fruechting said. "Government websites have evolved from static online brochures to interactive portals that allow both citizens and civil servants to navigate the public sector more quickly and efficiently. Today, a well-constructed, functional government website can serve as an extra staff member for cash-strapped agencies. My goal is to guide the development of innovations that will help local government do more with less."
Fruechting will represent Vision Internet at government and technology conferences throughout North America where she will present the company's innovative new content management system, visionCMS™. Government content management systems allow non-technical staff to add, edit and delete website content while providing management tools necessary to maintain control, consistency and quality. Introduced last fall, visionCMS is receiving high marks from early adopters who are using it to expedite and streamline citizen access to local government information, increasing transparency and saving taxpayer dollars.
For more information about Vision Internet's transformative government website technology, please call 888-263-8847 or visit http://www.visioninternet.com/freedemo.
About Vision Internet
Headquartered in Santa Monica, Calif., Vision Internet is a national leader in government website development with over 500 government, non-profit and education clients across the U.S. and Canada. Over the past 17 years, Vision Internet has created industry-defining websites for communities ranging in populations of less than 1,000 residents to more than 5 million. The company has earned hundreds of prestigious industry awards for its unique websites, and recently launched its latest content management system visionCMS™, a powerful, easy to use tool developed with feedback from hundreds of municipal clients. For more information visit http://www.visioninternet.com.
###