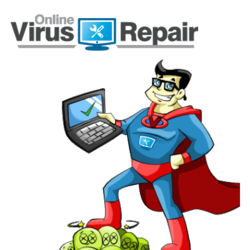 MalwareBytes Anti-Malware Pro is hands down the most effective virus removal and virus protection program we've tested to date.
San Luis Obispo, CA (PRWEB) March 26, 2013
Previously, you'd install a common anti-virus program and that would be plenty to keep your computer and data protected from viruses and spyware. New viruses and spyware are evolving to be more difficult to detect and remove, and thus creating the need for additional means of protection. Dan Steiner, President of OnlineVirusRepair.com says, "Effective Anti-Virus Software is absolutely important, but if computer users aren't keeping up with other forms of maintenance like windows updates, regular scans, and patches for common plugins, then the risk of getting a virus is significantly higher."
New viruses, such as the AVASoft Antivirus Professional infection, or the ZeroAccess redirect virus are slipping by even the most effective of anti-virus software available. These new viruses can install without the computer user knowing, and may run in the background collecting personal information. This can create a serious dangerous of credit card fraud, identity theft, and hacked personal accounts. To help block these attacks, OnlineVirusRepair.com has added MalwareBytes Anti-Malware Pro to their virus removal and malware protection regimen. The new software works alongside traditional anti-virus software, but provides additional protection in areas that are commonly missed.
The Security Experts at OnlineVirusRepair.com tested of all the newest anti-virus solutions and concluded that it was absolutely necessary to add MalwareBytes Pro to every system, regardless of the anti-virus solution that was already installed. Steiner continues to say, "If you use a computer on the internet, you need protection – period." OnlineVirusRepair.com has made a downloads page available for anyone to check out reviews and download all the best anti-virus software, virus removal tools, and other recommended software.
OnlineVirusRepair.com is an American based company specializing in remote removal of computer viruses and malware for individual computer users and businesses. The company was founded in 2012 by Dan Steiner and Brent Sarkison with headquarters in San Luis Obispo, CA. Customers with infected machines can call or chat with OnlineVirusRepair.com technicians to have viruses, malware, and spyware removal performed remotely without the hassle of taking their computer "into the shop." Technicians are able to remotely remove threats even without the client being at their computer; often in 60 minutes or less.