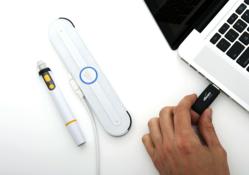 The instant setup, flexibility, and unique user experience is really resonating with educators who were previously looking at traditional interactive whiteboards.
San Carlos, CA (PRWEB) March 26, 2013
Luidia Inc., a leading provider of portable interactive solutions for classroom and meeting room collaboration, is pleased to announce the immediate availability of its latest product – eBeam Edge Wireless.
The latest version of the award winning eBeam Edge platform now features plug-and-play wireless connectivity. 50 meter wireless range gives teachers and business users the flexibility to set up their eBeam system in nearly any environment in minutes. The simplified setup saves time, resulting in more time for collaboration and learning.
"We worked hard to remove all setup barriers from the product, making it even easier for users to install their own interactive whiteboard systems," said Bryan Duggan, Luidia's Hardware Product Manager. "Simply plugging in the eBeam Wireless Adapter allows users to place their computer just about anywhere, enabling them to present and collaborate with others wherever they happen to be."
Building on the previous eBeam Edge products, eBeam Edge Wireless makes nearly any surface interactive. eBeam products can be used with any projector or combined with the new eBeam Capture Pack to record writing and drawings made on traditional whiteboards. eBeam Edge Wireless is also the most compact and portable interactive solution on the market, making it easy to bring to meetings and classes.
"The instant setup, flexibility, and unique user experience is really resonating with educators who were previously looking at traditional interactive whiteboards. Since classrooms and meeting rooms often already have a whiteboard surface, eBeam is quickly becoming the only solution that makes sense, both from a cost-benefit and environmental impact standpoint," says Willie Evans, eBeam North American Sales Director.
Some of the unique features of the eBeam Edge Wireless system include:

New USB Wireless Adapter allows for an easy, plug-and-play wireless connection
A simple software user interface and interactive stylus make learning to use the system fast and easy
eBeam Education Suite is a feature-rich software package with engaging content for the classroom
eBeam Workspace software enables business people to use their eBeam hardware to collaborate in real time with colleagues anywhere in the world
Create an interactive space of up to 9' x 5' on any flat surface
Also available as a bundle with the eBeam Capture Pack for dry-erase marker capture and live streaming with remote participants.
Learn more about eBeam Edge Wireless and other eBeam products at e-beam.com.
About Luidia
Luidia Inc. is the creator of eBeam® interactive technology that helps teachers and students interact, share, create, learn, and educate in our interconnected world. The company's products are utilized by organizations of all sizes, with hundreds of thousands of users across multiple industries and geographies. Luidia also partners with industry leaders such as Chief, Hitachi, NEC and Sony, who incorporate eBeam technology into their products.
For more information on Luidia, please visit Luidia (http://www.luidia.com) or on Twitter and Facebook.
SOURCE: Luidia Inc. Media Contact: Brad Richter., brad(at)luidia(dot)com Tel +1-650-413-7523, info(at)luidia(dot)com, http://www.luidia.com
# # #
Copyright © 2013. eBeam and eBeam Edge are registered trademarks of Luidia. All rights reserved.