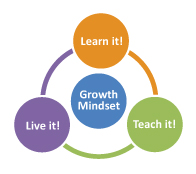 Educators' increasing attention to the growth mindset makes us optimistic about the future.
WASHINGTON, D.C. (PRWEB) March 26, 2013
Mindset Works, which helps schools foster student motivation and achievement, today announced that the Mindset Works® SchoolKit was named a finalist for the 2013 SIIA Education CODiE Awards for "Best Instructional Solution in Other Curriculum Areas." The SIIA CODiE Awards are the premier award for the software and information industries, and have been recognizing product excellence for 27 years.
The Mindset Works® SchoolKit transforms student motivation and achievement by instilling in students and educators a growth mindset, the understanding that ability develops with effort and learning, based on research by Carol Dweck, Ph.D. and Lisa Blackwell, Ph.D. Created under a US Department of Education IES SBIR contract, it includes Brainology®, an engaging, blended-learning program for students in grades 5-9 that teaches the growth mindset along with effective learning skills. The SchoolKit also contains interactive professional development for educators to support student learning and foster a growth mindset school culture. Recent pilot data for the SchoolKit show significant positive impact on teacher self-efficacy and student motivation and achievement.
Eduardo Briceño, Mindset Works' CEO, reflected, "This recognition acknowledges students' need for the mindset and learning-to-learn instruction that enables them to thrive as learners, particularly as schools and districts transition to teaching the Common Core State Standards, which demand more of students. Educators' increasing attention to the growth mindset makes us optimistic about the future as we pursue our mission to realize learning efficacy in all students."
SIIA CODiE Award winners will be announced during a special awards dinner at the nation's leading education technology conference, the Ed Tech Industry Summit, in San Francisco on May 6. "We're pleased with the innovative educational technology products that made it to this stage. All of this year's finalists show great promise, and they should be proud of their finalist status," said Karen Billings, vice president of the SIIA Education Division. "I look forward to seeing them all in May at the Ed Tech Industry Summit."
About Mindset Works
Mindset Works unlocks human potential by equipping people with the growth mindset, the core belief that abilities and intelligence can be developed. It was co-founded by one of the world's leading researchers in the field of motivation, Stanford University professor Carol S. Dweck, Ph.D. and K-12 mindset expert Lisa S. Blackwell, Ph.D. The Company translates psychological research into practical products and services to help students and educators increase their motivation and achievement.
Mindset Works and Brainology are registered trademarks of Mindset Works, Inc.
About SIIA
SIIA is the leading association representing the software and digital content industries. SIIA represents approximately 700 member companies worldwide that develop software and digital information content. Information technology (IT) and software security are critical issues to SIIA's members, many of whom strive to develop safe, secure and state-of the-art products that effectively serve their commercial and government customers alike, while protecting their intellectual property. The SIIA Education Division serves and represents more than 200 member companies that provide software, digital content and other technologies that address educational needs. The Division shapes and supports the industry by providing leadership, advocacy, business development opportunities and critical market information.