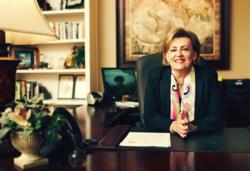 My commitment remains strong to serve all of our constituents well during this transitional period so that Vanguard's next president can shepherd it to even greater heights
Costa Mesa, CA (PRWEB) March 26, 2013
Vanguard University announced today that a presidential search committee to identify Vanguard's tenth president has been established following the announcement that Dr. Carol Taylor, President of Vanguard University, was voted President-Elect of Evangel University, an institution that is in the final stages of approval for a consolidation with Assemblies of God Theological Seminary (AGTS) and Central Bible College(CBC). If approved by the Higher Learning Commission in April, these three schools, two of which are Dr. Taylor's alma maters, will be known as Evangel University.
Dr. Carol Taylor was asked to serve as Acting President in January 2009 and named as Vanguard's ninth President in July 2009 after serving as provost/vice president of academic affairs at Vanguard since August of 2007. Before joining Vanguard, Dr. Taylor served for seven years as the vice provost for undergraduate education at Biola University, 12 years in executive management at Educational Testing Service (ETS) in Princeton, NJ and has taught at various higher educational institutions at both the undergraduate and graduate school levels.
"Vanguard is a different university today than it was when President Taylor stepped up to lead it," says David Oddo, chair of the Board of Trustees and chair of the Presidential Search Committee for Vanguard. "Under the direction of President Taylor, Vanguard University has been transformed from a school in financial crisis and declining enrollment into an institution poised to exit its state of financial exigency and with record enrollments. Our Board of Trustees and the Vanguard community are eager to continue our journey of growth and success."
A presidential search committee comprised of trustees, faculty, alumni, staff, a student leader, and a foundation board member is being established and will work closely with the Dingman Company, the executive search firm Vanguard has retained to help find Vanguard's next president. Dr. David W. Clark, who has served on the Vanguard Board of Trustees, will serve as Vanguard's interim president beginning June 15, 2013. Dr. Clark is the former president of Palm Beach Atlantic University and has extensive experience in Christian higher education.
"My journey at Vanguard began with an unexpected call to serve," says Dr. Carol Taylor, president of Vanguard University. "While the call to serve my alma maters is just as unexpected, my commitment remains strong to serve all of our constituents well during this transitional period so that Vanguard's next president can shepherd it to even greater heights. It has been an honor to serve Vanguard over the last six years, and I am grateful for the tremendous growth we've experienced due to the devotion of our students, faculty and staff who are deeply committed to our mission to equip students for a Spirit-empowered life of Christ-centered leadership and service."
Dr. Taylor will conclude her service as President of Vanguard University following the June 2013 Board of Trustees meeting.
U.S. News & World Report has ranked Vanguard among the best baccalaureate colleges in the West in their 2011-2012 rankings of colleges and universities and The Princeton Review named Vanguard a 2011-2012 "Best in the West" College.
For updated information on the transition, including frequently asked questions and more, visit http://president.vanguard.edu/10thprez.
###
ABOUT VANGUARD UNIVERSITY
Vanguard University (VU) is a regionally ranked, private, Christian university of liberal arts and professional studies. Located ten minutes from Newport Beach and an hour from Los Angeles, Vanguard equips students for a Spirit-empowered life of Christ-focused leadership and service. Vanguard is committed to academic excellence, boasting small class sizes that are designed to cultivate lasting professor-mentor relationships that enhance the learning process. Ranked annually by U.S. News & World Report as one of the top 10 colleges in the west since 2010, Accredited by the Western Association of Schools and Colleges (WASC), Vanguard offers more than 30 degrees and certificates through its undergraduate, graduate, and professional studies programs.