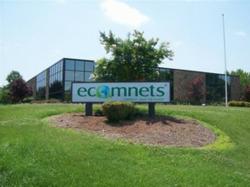 "Data protection and secure document delivery has always been a top priority at EcomNets for more than 13 years and it is essential that we offer the most secure environment for our customers' credit card information " said Raj Kosuri
Streling, VA (PRWEB) March 27, 2013
EcomNets (http://www.EcomNets.com), the leading provider of enterprise software, cloud computing and data center solutions, today announced that it has achieved certification of Payment Card Industry Data Security Standards (PCI-DSS) , the most rigorous industry-recognized payment-card security standard available globally. Achieving this level of PCI Compliance means enterprises can be confident that EcomNets adheres to rigorous security standards, which include maintaining the proper security policies, procedures, and regulations to reduce credit card theft and fraud.
"Data protection and secure document delivery has always been a top priority at EcomNets for more than 13 years and it is essential that we offer the most secure environment for our customers' credit card information and other personal data," said Raj Kosuri, CEO of EcomNets's. "Achieving PCI compliance further demonstrates our ongoing commitment and investment in providing the most secure cloud and data center service on the market."
To become PCI DSS-validated, EcomNets underwent a comprehensive third-party examination of its policies, procedures, and technical systems by A-lign Security Compliance, a provider of Payment Card Industry Data Security Standard (PCI DSS) compliance services for safeguarding credit cardholder data. The PCI Security Standards Council is an independent body formed to develop, enhance, disseminate, and assist with implementation of security standards for payment account security.
Since its founding in 2000, EcomNets has focused on delivering reliable, innovative solutions that benefit its customers' bottom line and efficiencies. EcomNets customers, among the world's leading companies, use its software technology and secure data center and cloud s solutions to maximize the value of existing investments, stay competitive in these demanding economic times, ensure compliance with government regulations, and streamline business processes.
About EcomNets
EcomNets is a privately held company based in Sterling, Virginia. EcomNets is a full service information technology company focusing on enterprise software solutions, professional services, cloud computing, and data center solutions. EcomNets develops and markets virtualization-based software and hardware solutions that deliver superior desktop computing. http://www.ecomnets.com