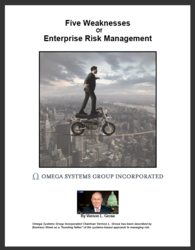 A must-read for CEOs, CFOs and others responsible for managing risk
WASHINGTON, D.C. (PRWEB) March 27, 2013
Enterprise Risk Management (ERM) broke over the horizon at the end of the 20th century as a welcomed and heralded improvement – a broadened scope for managing risk, embracing a wider range of operational, strategic and stakeholder concerns. Initially established in the private sector, it has now been adopted by public organizations as well.
Unfortunately, ERM has serious flaws.
A new eBook by Omega Systems Group Incorporated Chairman Vernon L. Grose examines the history of Enterprise Risk Management, identifies its five weaknesses, outlines a path for reform and explains what's at stake for society.
"Simply adding `Enterprise' to traditional Risk Management changes nothing," said Grose, a former National Transportation Safety Board member described by Business Week as a "founding father" of the systems-based approach to risk management.
"What is needed is fundamental and revolutionary change – the kind that causes the management world, whether private or public, to take note and acknowledge that managing risk is the key to survival in a turbulent and uncertain milieu."
The Five Weaknesses of Enterprise Risk Management explains how:
1. ERM Lacks the Framework it Touts
2. ERM is Reactive Instead of Proactive
3. ERM Discards the Wisdom of Insiders
4. ERM Doesn't Calculate Mitigation Costs
5. ERM Fails to Rank Risks
The eBook is a must-read for CEOs, CFOs, risk managers and others responsible for managing risk. A free download is available at http://omegainc.com/5-weaknesses-of-enterprise-risk-management-erm.
ABOUT OMEGA SYSTEMS GROUP INCORPORATED: Based in Washington, D.C., OSGI is a risk management consulting firm that features a systems-based program enabling decision-makers to have at their fingertips all identified risks – whether legal, technological, environmental, security, safety, political, or human.