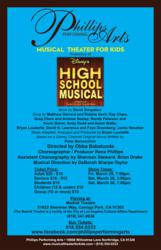 Canoga Park, CA (PRWEB) March 26, 2013
For Immediate Release
Phillips Performing Arts
Presents Disney's High School Musical
Madrid Theatre
March 29th & 30th
Phillips Performing Arts Musical Theater for Kids presents an exciting live production of Disney's High School Musical on March 29th and 30th on the Main stage of the historic Madrid Theatre in Canoga Park CA.
"This theater company is designed to provide a platform for talented kids who live in the San Fernando Valley and surrounding areas". This show is NOT to be missed says Artistic Director Rena Phillips. High School Musical is directed by the award winning Actor/ Director Obba Babatunde and Choreographed by professional dancer Rena Phillips. Musical direction is by DeBorah Sharpe-Taylor and Music Supervision Malachi Cohen.
.Babatunde's four and a half decade carrier spans the total spectrum of the entertainment industry Film, TV and Stage, 2013 Disney release "Santa Paws the Santa Pups" Emmy-nominated for his riveting performance in the H.B.O movie Miss Evers' Boys", an NAACP Image Award-nomination for his portrayal of Harold Nicholas in the film "Introducing Dorothy Dandridge", a Tony Award-nominated role for his Broadway performance as C.C. White in the original cast of "Dreamgirls." Other noted theatrical stage credits include Sammy Davis Jr. In the Broadway bound "Sammy" Jelly Roll Morton in "Jelly's Last Jam," Billy Flynn in Chicago" wealthy father in the now syndicated television comedy series "Half & Half," the new CW series "Cult"
Come see your favorite High School Musical Characters Starring Malachi Cohen from Nicktoons new show NFL- Rush Zone, as Troy, Jamella Perkins as Gabriella from singing group Co-ed, Jamariana Tribble from the Broadway cast of The Lion King, as Kelsi, Zachary Mitchell working on new NBC pilot Mr. Robinson as Chad, Julia Trites as Sharpay, Choreographer Elijah Tomlinson as Ryan, Cydnei Earle as Taylor, and Peyton Pearson as Zeke.
Artistic Director Rena Phillips Directed by Obba Babatunde Choreographed by Rena Phillips Assistant Choreography, by Brian Drake and Sherman Steward. Musical Direction by DeBorah Sharpe-Taylor. When: Friday March 29th @ 7pm
Saturday March 30th @ 3pm & 7pm
Where: Madrid Theatre 21622 Sherman Way Canoga Park CA 91302
Tickets: Adults $20 to $15
Kids 12 & Under $15
Seniors $18 to $12
Groups (10 or more) $15 Buy Tickets: (818) 347 9938
http://www.facebook.com/phillipsperformingarts
CAST
TROY BOLTON……MALACHI COHEN
CHAD DANFORTH…ZACHARY MITCHELL
ZEKE BAYLOR…PEYTON PEARSON
JASON…ADE ABAGAYA
OTHER JOCKS... BRANDEN ALBERTS, AIDEN TRITES, AMANDA PIPOLO, JOSUA CHRISTIAN, AIDEN TRITES
SHARPAY EVANS….JULIE TRITES
RYAN EVANS…ELIJAH TOMLINSON
JAMES...COLETRANE MARCHAND
SUSAN…ZSANAE SPINKS
CATHY..KENYA CABILAN
ALAN…DJ. SHEPARD
CYNDRA..SHAVON LUCKEY
PERFORMANCE KIDS...KIERA WASHINGTON, LAINA BOLTON, ETHAN CLEMONS
GABRIELLA MONTEZ…JAMELLA PERKINS
TAYLOR MCKESSIE….CYDNEI EARLE
MARTHA COX….EMILIE BESNILIAN, LYNDSAY CASCHAK
KRATNOFF…BRANDON ALBERTS
RIPPER…AIDEN TRITES
MONGO…GARRETT CALIBAN
OTHER SKATER DUDES…ETHAN CLEMANS, COLETRAN MARCHAND,
JACK SCOTT…MATTHEW ELIAN
KELSI NEILSON...JAMARIAN TRIBBLE, /US- AMANDA PIPOLO
WILDCAT CHEERLEADERS……ASHTYN WRIGHT, ALIANO PIPOLO,
LINDSAY CASCHACK, LAINA BOLTON, SEQUOIA SANDERS, SHAVON LUCKLEY,
GEORGIA BESNILIAN, KENYA CALIBAN, LOREN CRIEGHTON, AMANDA PIPOLO, KEIRA WASHINGTON, ZSANAE SPINKS, HANNAH MESINGER,
KARAOKE M.C. ..AIDEN TRITES
MS. DARBUS..YNA ESPINO
COACH BOLTON…...DOUGLAS DENNARD
MS. TENNY…….SEQUOIA SANDERS, HANNAH MESSINGER
MODERATOR…BRANDON ALBERTS
Contact:
Rena Phillips /Performing Arts Musical Theater For Kids
818 554-0333
RPhillips Entertainment
Beefitt1(at)aol(dot)com
818 554-0333