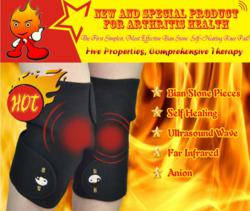 Bian stone expert said Bian Stone is very helpful for arthritis to relieve joints pain.
(PRWEB) March 27, 2013
After years of investigation by Qingdao Heshoutang TCM Healthcare Co on the bases of Traditional Chinese Medicine suggests that the material of Bian Stone Knee Pad: Bian Stone and Tourmaline, according to the experts, may be the key in helping to increase substantially blood microcirculation in joints. And by increasing microcirculation with its natural property: self heating, ultrasound wave, far infrared, and fruitful anion, joints pain in arthritis could be reduced.
The related research shows, the earliest Bian Stone is originated from sedimentary rock of ancient sea 0.55 billions of years ago, it contains more than 30 kinds of micronutrients, mineral substance, over 16 kinds of rare elements, infrared radiation(14.5-16.5), 20-2000/Hz ultrasound(under 3698) and nanocrystalline which are all very good for people, especially for patients with arthritis.
China Association of Acupuncture & Moxibustion has officially testified and adopted Bian Stone which is used in Bian Stone Knee Pad on treating many diseases including arthritis.
CCTV also reported Bian Stone Therapy has been applied in many countries such as China, Hongkong, Taiwan, Japan as well as overseas because it really works very well in relieving joints pain.
According to Bian Stone experts, people who are healthy can also wear Bian Stone stuff to consolidate and enhance their health.
Tourmaline is well known already to be very good for patients with arthritis by its self-heating property.
Based on this investigation Qingdao Heshoutang Tcm Healthcare Co has combined Bian Stone and Tourmaline together to form present great product called Bian Stone Knee Pad with the potential to alleviate and help to cure arthritis.
Dr Wang said Bian Stone Knee Pad with its four properties: self heating, ultrasound wave, far infrared, and fruitful anion from Bian Stone and Tourmaline must be very helpful for people's health, especially for arthritis people.