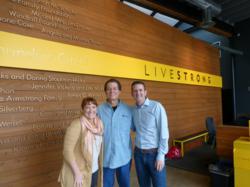 Livestrong is a great organization that is fulfilling a vital role for cancer patients and their families
Seattle, Washington (PRWEB) March 27, 2013
Michael LaBaw, founder and president of Sound Telecom remembers vividly the shock, trepidation and need for immediate direction when diagnosed with a rare eye cancer which was followed by two subsequent diagnoses of cancer in each of his kidneys.
Fast forward 7 years from that time to a keynote speech given by Doug Ulman, CEO of the Livestrong Foundation this past fall at the Inc. 5000 Award Conference in Phoenix AZ. There to participate in the conference and receive Sound Telecom's 2012 Inc. 5000 award, Mr. LaBaw stopped at the Livestrong exhibitor booth after Mr. Ulman's speech and introduced himself to Renee Nicholas, Director of Corporate Engagement and Mindy Boyum, Major Gifts Officer. Returning from his presentation, Mr. Ulman, also a three-time cancer survivor joined the conversation.
"As it gained participants and momentum, I was seriously impacted by that conversation," says LaBaw. "The genuine concern, warmth and familiarity with the travails of fighting cancer that was shown by the Livestrong staff moved me to take note and be a part of what they were doing." During that conversation LaBaw was invited to visit the Livestrong Foundation in Austin, Texas.
Shortly after that, chaos ensued at the Foundation with unfortunate revelations by the news media and Lance Armstrong, Livestrong's founder. In an interview, Bill Saparito, assistant managing editor of Time Magazine, asked Doug Ulman, "Can Livestrong survive without Armstrong?" to which Ulman replied, "The irony here is that we are so focused on survivorship and focused on trying to give people tools and resources to help them when they are diagnosed with cancer and now we are having to apply those same theories, those same approaches and philosophies to our own organization as we go through this turbulent period."
While visiting family in Austin, LaBaw contacted the Livestrong Foundation and he and his wife, Cheryl, were given a tour of the foundation's facility and another opportunity to discuss and share the experiences of navigating the fight against cancer. "We were looking forward to the tour and to see how the recent events with Lance Armstrong had impacted to organization," said LaBaw. "While we could see the impact, we clearly saw that Livestrong is not about Lance, but is about assisting those who are in need of the foundation's services and that we could help by getting the word out." The LaBaw's made the decision that evening to find ways to get involved.
Sound Telecom announced today its first of what it hopes are many corporate donations. "We are not just interested in participating with our pocketbook", explains Cheryl LaBaw, Sound's director of customer relations. "Livestrong is a great organization that is fulfilling a vital role for cancer patients and their families." Sound Telecom is not only interested in being a corporate donor, but is now looking for ways to involve their personnel and donate its services to the organization, corporately and individually. The company is encouraging businesses, no matter what size, small or large to get involved to help people navigate the experience of cancer.
About Sound Telecom
Sound Telecom is a leading provider of 24 hour Telephone Answering, Call Center and Cloud-based Phone Services, headquartered in Seattle professionally serving thousands of customers throughout the United States and Canada with USA based agents. The twenty-seven year old company has offices in Seattle and Spokane, Washington and Denver, Colorado. For more information, please visit http://www.sound-tele.com
About the LIVESTRONG Foundation
The LIVESTRONG Foundation provides free cancer support services to help people cope with the financial, emotional and practical challenges that accompany the disease. Created in 1997 by cancer survivor and philanthropist Lance Armstrong, the Foundation is known for its powerful brand -- LIVESTRONG -- and for its advocacy on behalf of survivors and their families. With its iconic yellow LIVESTRONG wristband, the Foundation has become a symbol of hope and inspiration around the world. Since its inception, the Foundation has served 2.5 million people affected by the disease and raised more than $500 million to support cancer survivors. One of America's top cancer non-profit organizations, the Foundation enjoys a four-star rating from Charity Navigator and has been recognized by the National Health Council and the Better Business Bureau for its excellent governance, high standards and transparency. For more information, visit http://www.livestrong.org
Contact Information
Sound Telecom
Michael L. LaBaw, President
800-577-1550
http://www.sound-tele.com